Inside Mariah Carey's Mental Ward Hell! Sister Begs Singer To 'Get Me Out Of This Hospital'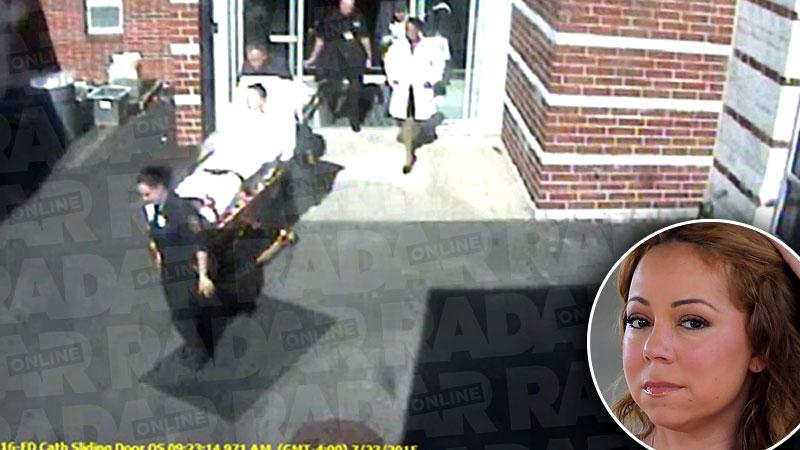 RadarOnline.com has obtained a shocking, world-exclusive image that shows Mariah Carey's beleaguered big sister Alison Carey strapped to a gurney and seemingly unconscious at the Long Island mental hospital Brookhaven Memorial Hospital Medical Center.
That is the same facility from which Alison, 54, recently tried to escape when she complained to RadarOnline.com she was being held against her will by her mother, Patricia Hickey, and a Long Island lawyer named Stephen Grossman.
Article continues below advertisement
During a phone conversation with Alison, a heroin-addicted ex-pros-titute and mother of four, she desperately pleaded for someone to pass along a message to her pop princess sister to help her win back her freedom.
"I need a lawyer to get me out of this hospital because there is no reason to keep me in here for three months," she said.
It is a request that has seemingly fallen on deaf ears, as 45-year-old Carey unrepentantly lives in a $10,000-a-night beachside Malibu rental. She has also recently been spotted partying at luxe Malibu eatery Nobu and throughout Europe with her new billionaire boyfriend, James Packer.
Meanwhile, Alison, who is HIV-positive, told RadarOnline.com she has been rotting at the hospital since a mystery man attacked her in her home and stole jewelry four months ago. "I don't remember getting in a car with this person, and I don't remember going to my house. But I remember being at my house and he was taking my jewelry," Alison said.
The shocking photo of Alison at the hospital was snapped on July 23 while she was guided out of what appears to be a hospital service entrance.