Afraid Of Commitment? Lena Dunham 'Intimidated' By Marriage, Not Ready To Take The Plunge With Rocker Beau Jack Antonoff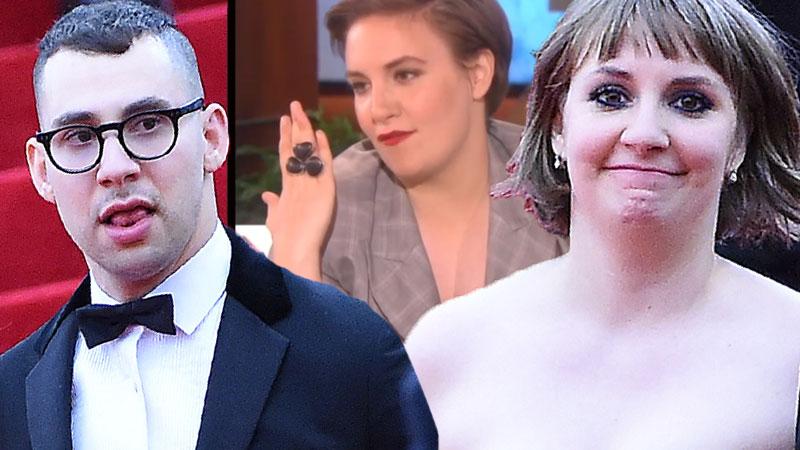 Lena Dunham may have vowed not to say "I do" to rocker boyfriend Jack Antonoff until gay marriage was legalized, but that doesn't mean she's ready to walk down the aisle just yet!
The 29-year-old sat down with Ellen DeGeneres to discuss her commitment fears now that gay marriage is nationally legal.
"We were hiding behind fake liberal ideals," she quipped to Ellen. "No we, marrying, we were like those were our beliefs, but then we were like we're not gonna suddenly just get engaged because it became legal we better wait for a moment where we feel excited about this and I'm excited to marry him at some point, but it felt like a lot of pressure to just go for it."
Article continues below advertisement
"I mean, we own a dog together," she continued. "We own a home together, but the marriage thing is a big deal."
"And I also have to say I feel intimidated because I don't want to espouse any stereotypes, but gay people are kind of killing it at weddings right now they're kind of winning at weddings," Dunham confessed. "So I don't want to go in and kind of pale in comparison."
Watch the Video on RadarOnline:
As RadarOnline.com previously reported, Dunham shared that she "doesn't look at Twitter anymore" due to the "verbal violence" and weight shaming she's received from commenters.
She probably won't appreciate commitment pressure from followers either!
Will the author and comedian make her way down the aisle soon or are these two headed for a breakup in the future? Let us know what you think in the comments below.