Lamar Odom Begged Khloe To Keep Him Off 'KUWTK' Before Overdose: Friend Slams The Kardashians 'Have Blood On Their Hands!'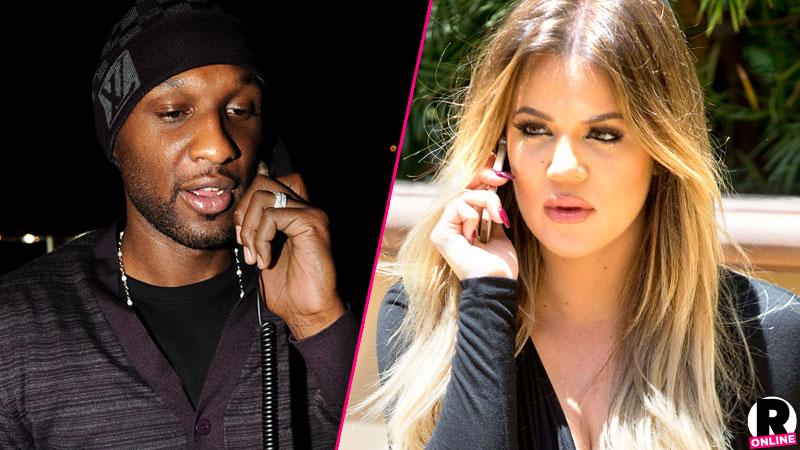 Lamar Odom was feeling the pressure of reality TV infamy in the weeks before his overdose, RadarOnline.com has learned, and repeatedly begged his estranged wife, Khloe Kardashian to stop filming their phone calls for Keeping Up With The Kardashians. But he was unsuccessful -- and now, an insider insists, the Kardashians "have blood on their hands!"
In the weeks leading up to Odom's overdose at a brothel, he had "pleaded with Khloe to stop having the production crew from KUWTK film their phone conversations," an insider told Radar. "He wanted them to remain private. But he was powerless to stop it because Lamar had previously signed off on having phone calls recorded when he was married to Khloe, and part of the show."
Article continues below advertisement
Indeed, phone calls from Odom were featured on just last week's episode of KUWTK.
"Khloe would either ignore the texts and voice mail messages asking her to stop, or she would tell him, 'You owe me this after you humiliated me by cheating with other women,'" the source claimed.
"Lamar had no idea that he was going to be Khloe's storyline during the past season. She is always talking about how much she loves the guy, but has no problem exploiting Lamar for her gain. How low can Khloe go? Lamar would call her sobbing about losing his best friend this past summer, and the first thing she thinks is to document it?"
"He's distraught and devastated," Khloe said on the show of the scene with sobbing Odom. "Anything could send him to spiral and that's the last thing I want for him."
But was it another reality show appearance that sent him off the deep end? Just days later he would be hospitalized after an overdose.
"The Kardashians all have Lamar's blood on their hands," the source insisted, claiming they "demonized and exploited him for their stupid show."
MORE ON:
Keeping Up With the Kardashians
Article continues below advertisement
Meanwhile, Khloe has been making medical decisions for Odom, because their divorce still hasn't been finalized.
The thirty-five-year-old had been drinking and popping herbal Viagra pills at a brothel before the medical crisis.
According to insiders, Odom, arrived at the Love Ranch in Crystal, Nevada, on Saturday alone. He was put up in a VIP suite, where he partied, "enjoying the company of women."
His ex-wife, Khloe Kardashian, momager Kris Jenner, and former sister-in-law, Kim Kardashian, all rushed to Vegas on Tuesday night to be with Odom. His father Joe arrived early Wednesday afternoon, with baby mama, Liza Morales, and their two children expected to arrive later in the day, along with Kourtney Kardashian.
Odom's condition is still listed as critical.