Khloe Kardashian Gathers With Family Amid Lamar Odom Health Crisis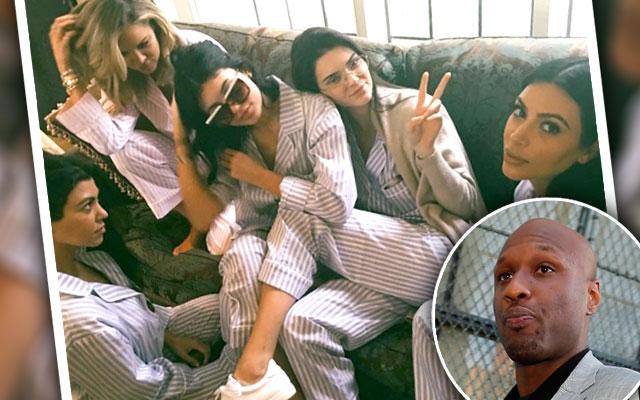 Khloe Kardashian took a break from Lamar Odom's hospital bedside attending sister Kim's baby shower on Sunday, one of multiple updates RadarOnline.com has about the reality star's push to keep her husband alive.
Baby Shower
Khloe, 31, was snapped in a family shot at the sentimental event, which was styled after the 1989 Shelly Long film Troop Beverly Hill. She was pictured alongside her mother Kris, and sisters Kourtney, Kim, Kendall and Kylie Jenner. The 18-year-old Kylie uploaded the group photo to Instagram with the caption, "Baby shower vibes." The event was a week later than initially scheduled, as the family put it on hold after Lamar fell ill following his purported overdose at a Nevada brothel Oct. 13 after three days of hard partying, Us Weekly reported. A source told the magazine, "Khloe's not really responding to friends who've reached out" and is "just in a bubble with her family right now." The ex-NBA forward, 35, remains at Cedars-Sinai Medical Center in Los Angeles, where he was airlifted a week ago with Khloe by his side.
Article continues below advertisement
https://instagram.com/p/9RSClSnGla/?taken-by=kyliejenner
Firings In Las Vegas
Multiple staffers at the Sunrise Hospital in Las Vegas, where Odom was initially brought following his health breakdown, have been canned over allegations they attempted to sneak pictures of the ailing athlete, and get a peek at his confidential medical records, according to online reports. Officials with the medical facility said that all administrative moves were done in accordance with HIPAA rules. Security guards are patrolling Odom's room at Cedars-Sinai to ensure no further incidents occur.
Cold Turkey
Khloe has vowed that she'll leave Odom again if he continues to use drugs, according to online reports, in the wake of her ditching their previous divorce plans, and the backlash she received on social media as a result. Khloe has flocked back to Odom's side because she feels no one else would look after the wayward jock. Prior to his downturn in health, Odom had been linked to drugs ranging from marijuana to oxycontin to cocaine to heroin.
Kardashian Care
Odom's costly, multimillion-dollar medical stay will be covered by the Kardashian's health insurance, according to online reports, as the two remained married at the time of his alleged overdose. It's another lifesaver for the former L.A. Laker, who wouldn't have the bankroll to cover the costly care, which has gone on 13 days and counting.