Carly Fiorina's Addict Daughter Was Evicted Just Before Tragic Death — Also Divorced, In Debt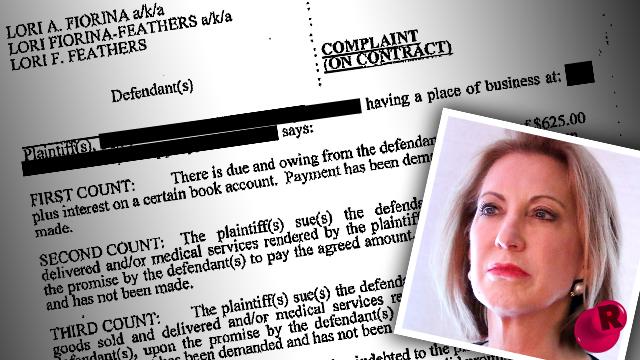 Republican presidential candidate Carly Fiorina has openly spoke of the heartbreak she experienced when her troubled stepdaughter died after years of drug and alcohol abuse. And now, RadarOnline.com can exclusively reveal the devastating details of the young woman's life in her very last days.
Lori Fiorina Feathers, who was found dead at just 35 on October 12, 2009, was deep in debt in the months before her passing, and was even sued by a doctor for unpaid medical bills on July 27, 2009.
Article continues below advertisement
According to New Jersey's Morris County Special Civil Court documents obtained by RadarOnline.com, Parsippany-based surgeon M. M. Choudhury demanded Feathers pay $718.48 for four years of unspecified services.
READ THE CHILLING COURT PAPERS
On October 7, the court ordered Feathers to pay $786.85 including attorneys' fees, but it seems she never got the chance to make good on her debt— she died just five days later.
In an even more heartbreaking twist, RadarOnline.com can also report that Feathers was evicted from her Morris Plains, New Jersey, apartment just days before her death.
Her landlord filed a lawsuit to force the wayward tenant out of her home on August 13, 2009, a Morris County Special Civil Court clerk confirms to RadarOnline.com.
Feathers failed to show up to her September 18 court date, so she was slapped with a default warrant of removal on September 29.
Article continues below advertisement
Hollywood's Addiction: 24 Stars Who Died From An Overdose
According to the clerk, the warrant demanded Feathers leave the premises within three days. She died less than two weeks later.
Though the Morris County Medical Examiner's Office confirms Feathers passed away in the district, the exact whereabouts of her death are unclear.
Feathers also experienced heartbreak in her final year, RadarOnline.com can report.
According to Richmond City Circuit Court records, her husband, Christopher Feathers, filed for divorce on August 6, 2008. The split was finalized on February 11, 2009.
Previous years were also extremely challenging for the former Hewlett Packard CEO's troubled stepdaughter. As RadarOnline.com reported, Feathers was arrested for driving while extremely intoxicated near her Richmond, Virginia, home in July 2007.
She agreed to check into rehab, the judge noted, but sadly, she couldn't stay clean.
"We lost both the woman she was and the woman she could have been. All our hope for her and her life died," Feathers' famous stepmother later recounted of the tragic death in her memoir, Rising To The Challenge. "A heart truly can feel as though it is breaking apart into a thousand shattered pieces."