Alexis Bellino: Cast Should 'Butt Out' Of Brooks Ayers' Cancer Battle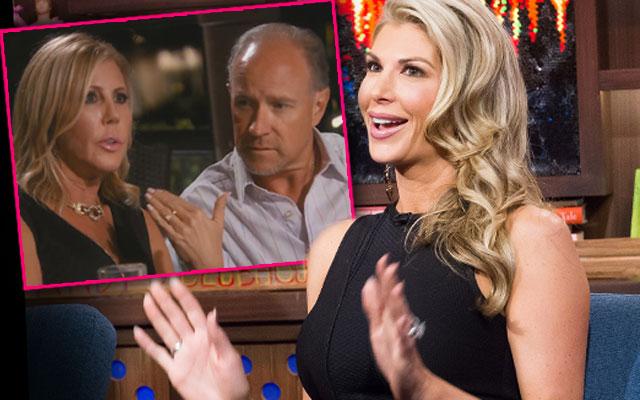 Ex-Real Housewives of Orange County star Alexis Bellino said that current cast members should "butt out" of the Brooks Ayers' cancer battle that spelled endless drama for the show's Vicki Gunvalson this past season.
As RadarOnline.com has previously reported, the skepticism over Ayers' health has been the show's driving storyline this season, causing Gunvalson tons of stress as she balances the touchy situation between her castmates and former love.
Article continues below advertisement
Watch the video on RadarOnline.com
When asked if she thought that Ayers had faked the disease on Monday's Watch What Happens Live, Bellino, 38, said "absolutely not — I do not think he is."
The gorgeous fashionista had gushing words for Gunvalson, saying she loves her dearly and that she's "like a sister to me now.
"If he does have cancer, everyone should feel really bad about it — it's nobody's business — let him take it up with the man above."
Elsewhere in the discussion, Bellino touched upon the recent controversy surrounding Tamra Judge and her daughter Sidney Barney, saying that her former castmate, 47, should take her estranged teenage daughter's words to heart in regards to their issues at home.
Watch the video on RadarOnline.com
"I wish she'd listen to her daughter," she said. "Her daughter is begging her to quit bringing it up on TV."
Article continues below advertisement
Bellino, a devout Christian, shared her comments on a recent email she sent to Andy Cohen criticizing Judge, a born again Christian, for harassing her about her own faith prior to her religious awakening. When Cohen read the email during the reunion, Judge said in response that, "It's my journey not her's," and said that Bellino is "the type of Christian that gives Jesus a bad name."
Bellino took the high road in responding to Judge's stinging barbs.
"I was never trying to judge; I immediately sent a tweet to everybody and to Tamra saying I'm sorry that it came across judgmental," she said. "If you're going to use Jesus Christ and say that, I wanted her to back up her baptism with her actions.
"That was all I was trying to say … that was from my heart."
Watch What Happens Live airs Sundays thru Thursdays at 11/10c on Bravo.