New Hope: Wade Robson Wins Legal Victory In Michael Jackson Sex Abuse Suit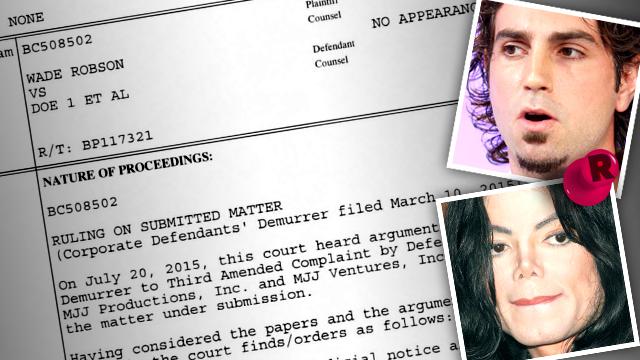 Michael Jackson's alleged sex abuse victim, Wade Robson, has won a legal victory in his lawsuit against the late singer's companies.
A judge dismissed Robson's X-rated molestation claims against the singer's estate back in May, but he subsequently filed an amended complaint against Jackson's production companies over similar claims of rape.
Lawyers for Jackson's estate asked Judge Mitchell Beckloff to dismiss the claim against the companies because the statute of limitations had expired.
Article continues below advertisement
But in a written ruling, Judge Mitchell Beckloff ruled in favor of Robson. He wrote, "Plaintiff Wade Robson has alleged sufficient facts of a business environment connection between him and defendants. Certainly, there are allegations Michael Jackson sexually abused plaintiff prior to any business relationship."
"Defendants arranged for Wade Robson and plaintiff's mother's immigration to the United States. Plaintiff's residency in the United States and involvement with Michael Jackson was facilitated and promoted by defendants," the documents state. "Defendants employed plaintiff and his mother to promote the sexual abuse. The demurrer on the issue of statute of limitations is overruled on the grounds set forth above."
Now, the claim can proceed to summary judgment, but Robson still has numerous legal hurdles to overcome before the case would even proceed to trial.
Story developing.