Red Carpet War! Maria Menounos 'Gunning For' Giuliana Rancic's Award Season Gig -- Why It's Worse Than Ever Behind The Scenes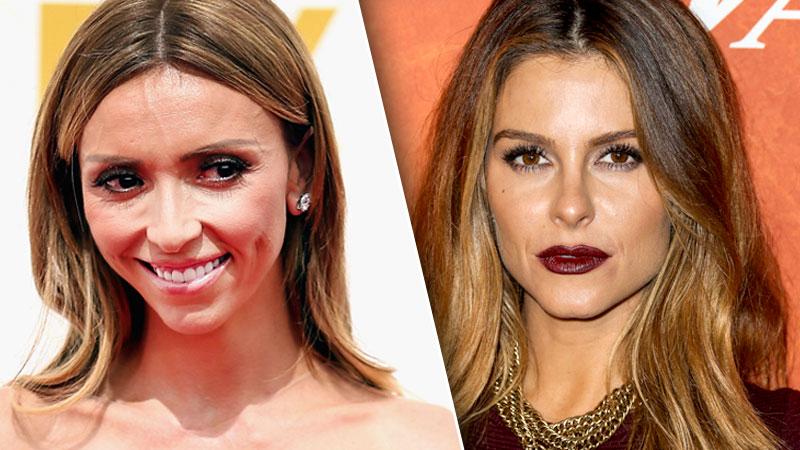 Last night at the Emmys, the biggest drama was happening behind the scenes! Giuliana Rancic triumphantly returned to the red carpet for E! after leaving the network's E! News earlier this year. But her replacement and frenemy, Maria Menounos, was conspicuously absent -- and insiders tell RadarOnline.com it was because of their ongoing feud!
Sources told RadarOnline.com, "The network had to keep Giuliana under contract to do all of the award shows because fans hated Maria when she did the SAG Awards last year."
Article continues below advertisement
"But Maria wasn't happy that she was going to be playing second fiddle to Giuliana and not doing the award shows is a sticking point," the source explained. "Maria loves getting designer dresses on loan for doing the red carpets. Over time, she is hopeful that Giuliana won't want to continue to commute from Chicago to Los Angeles to do the award shows."
The source added, "Maria is very focused and determined to become a bigger brand and she thinks that includes hosting red carpet award events. She has told bosses she can be ready to go if Giuliana gets sick or delayed by traveling. Giuliana knows Maria is gunning for her."
Meanwhile, E! staffers are trying to stem the tension between the two women.
"Giuliana will obviously be at the office during award season, and the staff is trying to make sure the two women don't cross paths," said the source.
So far, ratings for E! News have soared since Menounos replaced Rancic.
The ratings for Rancic's final week as the anchor of E! News, August 3 through 9, 2015, averaged 444,000 viewers for the hour, according to Nielsen.
The ratings for Menounos' first week as the anchor of E! News, August 10 through 16, 2015, averaged 546,000 for the hour, according to Nielsen.
Menounos' ratings for the show are a stunning 23 percent increase over Rancic's the previous week.
Ratings for Rancic's red carpet coverage are still pending.
Would you rather watch Giuliana or Maria on the red carpet? Let us know in the comments!