'A Very Special Day': Leah Remini's Daughter Sofia Baptized In The Catholic Church 2 Years After Star's Shocking Split From Scientology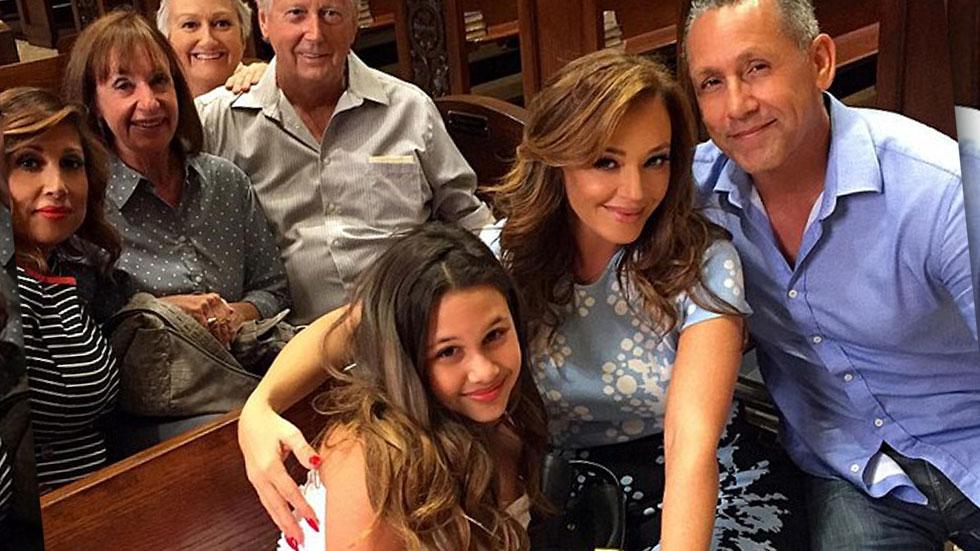 Leah Remini had her daughter Sofia baptized in the Catholic Church Friday, more than two years after her shocking exit from the Church of Scientology.
The King of Queens star, 45, showed off her proud family portraits from the Friday event on Instagram, writing: "A very special day for our little girl and her Godparents @crabichuk wanted to share with all of you."
https://instagram.com/p/7OpRIPtQbA/
Remini added the hashtags: "#baptism #catholic #newbeginnings."
Article continues below advertisement
She later wrote on Twitter: "Our daughter was aware of what she was accepting and that was beautiful to witness."
https://instagram.com/p/7O17YaGXXq/
The one-time Dancing With The Stars contestant's spouse Angelo Pagan, on his own account, clarified the family's religious status, saying he and his wife "have always been Catholic.
"It was a beautiful experience," he added, "and our little angel is on her way to a more spiritual existence. God Bless!"
Remini, who's been in nasty tangles with the church since her 2013 departure, has frequently cited her child, who was born in 2004, as one of her chief reasons for leaving Scientology.
"I decided I didn't want to raise my daughter in the church because from what I've experienced and what I saw, as the church becomes your everything."
Remini, a Jennifer Lopez confidante, said on her TLC reality show: "It becomes your mother, your father, your everything — you are dependent on the church."
Some children who are raised as Scientologists ultimately lack loyalty to their own flesh and blood, she said.
The star's show Leah Remini: It's All Relative, airs Wednesdays on TLC at 9/8c.