Kentucky Clerk Kim Davis Confirms Shocking Secret Meeting With Pope Francis In Washington, D.C. –– Claims Pontiff Told Her To 'Stay Strong'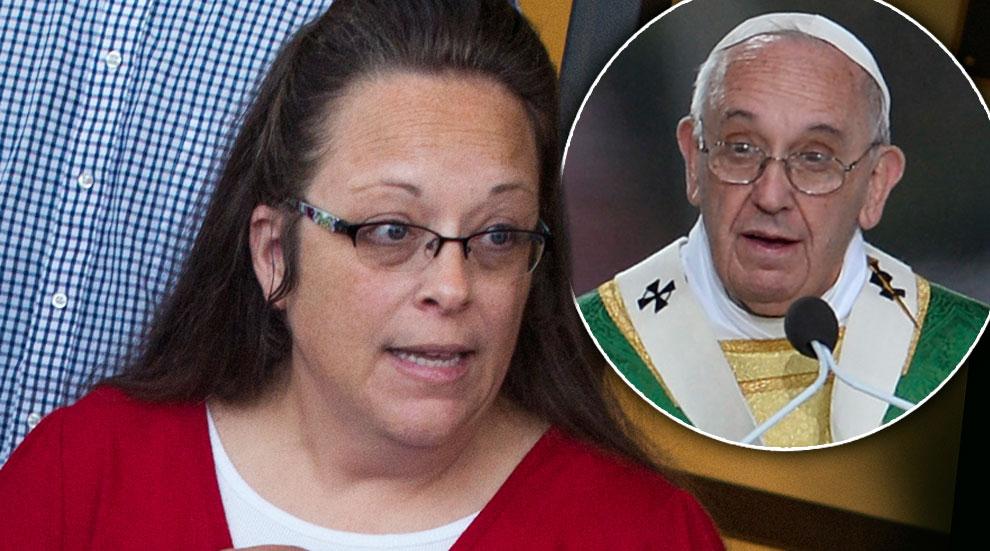 Kim Davis, the Kentucky county clerk jailed for refusing to distribute marriage licenses to same-sex couples, confirmed a secret meeting with Pope Francis, saying she was "crying" and humbled by the secret encounter.
"I was crying, I had tears coming out of my eyes," Davis, an apostolic Christian who made national headlines when she spent five days in jail after she was held in contempt for her actions, told ABC News Wednesday. "I'm just a nobody, so it was really humbling to think he would want to meet or know me."
Article continues below advertisement
The 49-year-old Davis said she met the pontiff during the first leg of his three-city U.S. tour, crossing paths with him at Washington, D.C.'s Vatican Embassy Sept. 24.
She said upon meeting him, "I put my hand out and he reached and he grabbed it, and I hugged him and he hugged me.
"And he said, 'Thank you for your courage.'"
Watch the video on RadarOnline.com
Davis said that the pope told her to "stay strong" during the visit, which lasted less than 15 minutes. She called it "a great encouragement" in her resolve not to personally issue the licenses against her religious beliefs.
"That was a great encouragement -- just knowing that the pope is on track with what we're doing, it kind of validates everything to have someone of that stature," she said. "I've weighed the cost and I'm prepared to do whatever it takes, even jail.
"It's still the same battle, we just have some more fighting with us now."
Davis -- who makes $80,000-a-year in the elected position -- has returned to the Rowan County, Kentucky office, but is not personally handling the issuance of the licenses at this time.
Article continues below advertisement
Pope Francis spoke with the network Sunday about the ongoing controversy of Davis citing her religious convictions in her professional decision.
"I can't have in mind all the cases that can exist about conscientious objection, but, yes, I can say that conscientious objection is a right that is a part of every human right. It is a right. And if a person does not allow others to be a conscientious objector, he denies a right.
"It is a human right and if a government official is a human person, he has that right. It is a human right."
Rev. Federico Lombardi, spokesman for the Vatican, issued a statement in the wake of the reports being issued. He said: "The Holy See is aware of the reports of Kim Davis meeting with the Holy Father.
"The Vatican does not confirm the meeting, nor does it deny the meeting. There will be no further information given."