Gay Couple Receives Marriage License At Kentucky Office While Clerk Kim Davis Remains Behind Bars –– 4 Latest Developments In Controversy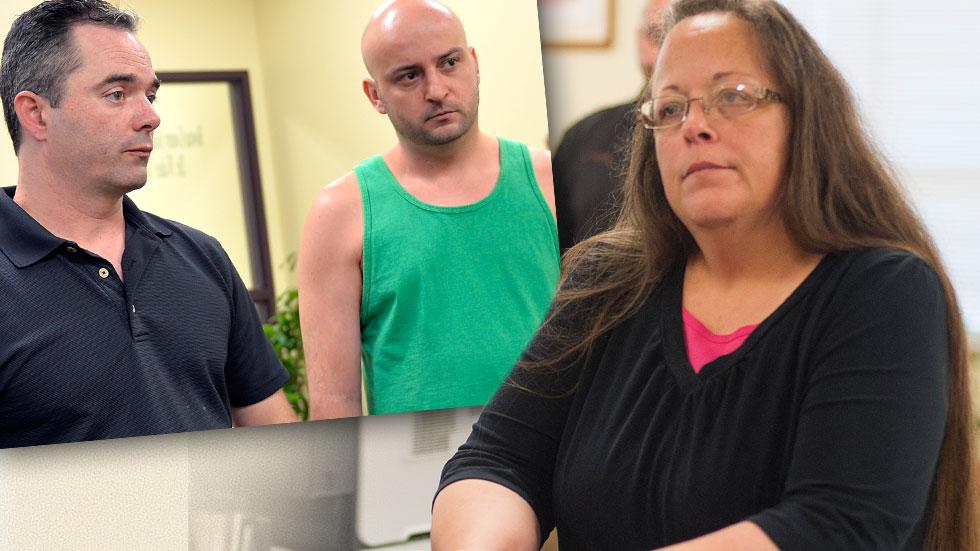 RadarOnline.com has all the latest in the ongoing controversy in Kentucky surrounding a county clerk jailed for refusing to distribute marriage licenses to gay couples.
Breaking Through Barriers
The first same-sex couple to obtain their marriage license at the Morehead, Ky. office for Rowan County emerged in tears Friday following the ongoing controversy. William Smith Jr. and James Yates paid a fee of $35.50 and received their license from deputy clerk Brian Mason, who shook the mens' hands after the presentation. A number of well-wishers were outside the building to applaud the newlyweds, though a street preacher was also on hand expressing his opposition to the pact. The men said they are still selecting a date for a wedding. The two previously were rebuffed in their efforts, and posted the incident to YouTube.
Article continues below advertisement
Watch the video on RadarOnline.com
Behind Bars
Clerk Kim Davis remained in custody for refusing to issue gay marriage licenses, while a sheriff's deputy stood outside her empty office as Smith and Yates received their licenses. Of the six deputy clerks in her office, only one -- her son Nathan Davis -- refused to distribute licenses to same-sex couples. As she was taken into custody, she told U.S. District Judge David Bunning, "You can't be separated from something that's in your heart and in your soul."
Watch the video on RadarOnline.com
Holding Her Ground
Davis declined a chance to be freed from jail under the condition she agrees not to block the issuance of the license. She noted her Apostolic Christianity in turning down an offer from the judge to set her free, assuming she complied with the rules. Her husband Joe Davis held a sign outside the facility that read, "Welcome to Sodom and Gomorrah." He told reporters his wife will not change her stance on the issue -- or step down from the job -- and will continue to remain in custody. The judge has said Davis -- who told the court that "God's moral law conflicts with my job duties" Thursday -- will stay in custody for a minimum of a week.
Next Step
The judge said he'll take another look at the decision in a week, as deputy clerks continue to comply with the process. While Davis has called upon the Legislature to protect her position, Gov. Steve Beshear declined to call a special session Thursday, as the group isn't slated to meet again until the new year.