Kentucky Clerk Kim Davis Expected Back To Work Friday Or Monday –– Remains Mum On Whether She Will Issue Same-Sex Couples Marriage Licenses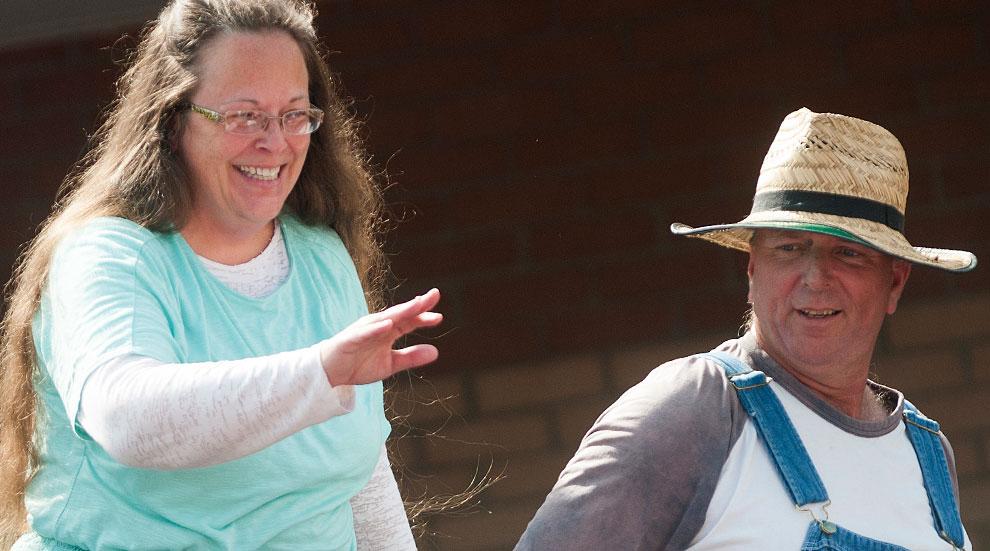 Kim Davis, the county clerk in Kentucky jailed for refusing to distribute marriage licenses to same-sex couples, is expected to go back to work Friday or Monday.
Davis, who was released from jail on Tuesday after five days in custody, was taking a day or two off to spend time with family before returning to her job, according to the Christian law firm who's representing her, Liberty Counsel.
It remained unknown whether or not Davis, a 49-year-old apostolic Christian clerk in Rowan County, would stand in the way of gay people getting their marriage licenses at her office. The Liberty Counsel's Mat Staver didn't shed much light on the issue, only saying that "Kim cannot and will not violate her conscience," and that the question would be answered "in the near future."
Article continues below advertisement
Should Davis not cooperate, she'd be violating an order from U.S. District Judge David Bunning that could wind up with her going back behind bars.
Watch the video on RadarOnline.com
Since she's been gone, seven out of 10 licenses the office issued were to same-sex couples, Deputy clerk Brian Mason told the AP Wednesday. Mason said the office has been running as usual, and that should the returning Davis try and block him from giving a same-sex couple a marriage license, he'll ignore her commands to comply with an order a federal judge has issued.
Of the six clerks on Davis' staff, the only one who's refused to agree to issue the licenses was her son, Nathan. The clerks also remain under the scrutiny of the court, and remain at risk of being held in contempt if they defy the judge's order.
Ultraconservative politician Mike Huckabee was among those to welcome Davis out of Carter County Detention Center upon her release Tuesday. The celebration included a church choir composed of 150 singers.
With the 80s anthem "Eye of the Tiger" playing behind her, Davis told the crowd, "I just want to give God the glory; His people have rallied, and you are a strong people."
Davis, who makes $80,000-a-year in the elected position, can only lose her job if she loses a reelection bid, or the state's General Assembly intervenes in the controversial situation.