Former 'RHOC' Star Gretchen Rossi Slams 'Monster Mom' Tamra Judge – 'Her Own Daughter Can't Stand Her'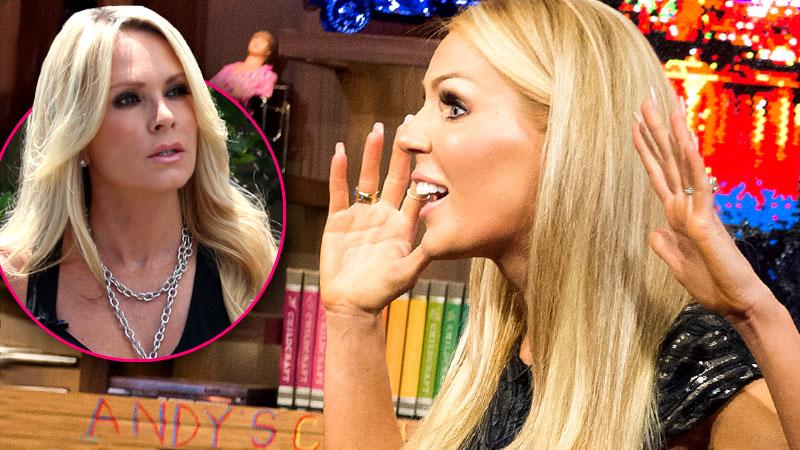 It has been two years since former Real Housewives of Orange County beauty Gretchen Rossi and her fiance Slade Smiley parted ways with the Bravo show, but she hasn't stopped stirring up drama with her co-stars! After a tense taping of Watch What Happens Live this week, 36-year-old blonde bombshell Rossi opened up to RadarOnline.com exclusively about her thoughts on co-star Tamra Judge and why she feels that she deserves all the hate that she is getting right now.
Article continues below advertisement
The feud between Rossi and Judge started last year, when Judge tweeted that Rossi's man Smiley was "a deadbeat" dad.
Now, Judge continues to face accusations that she's a monster mom in her bitter custody battle with her ex-husband, Simon Barney, and Rossi says it's just a case of karma!
"Tamra called Slade a deadbeat dad, which is completely untrue because he has a great relationship with his son," Rossi tells RadarOnline.com. "What is funny about all of this is that now SHE is a monster mom!"
"Her own daughter cannot stand her and does not want to see her anymore," Rossi says. "This is a fact." As RadarOnline.com reported, Judge's 16-year-old daughter Sydney was recently granted the right to live full-time with her dad.
"Although there is a compassionate side that wants to feel bad for her, there is also a side of me that is like 'you know what? Karma really is a b***h,'" Rossi says.
"Tamra knew that what she was saying about Slade at the time was not true and that it was not right of her to do," adds Rossi. She has since capitalized on her strong fan base by launching her own brand of products called The Gretchen Christine Collection, which includes handbags, jewelry, shoes, clothes, dresses, hates, swimsuits and other accessories.
Article continues below advertisement
However, Judge is not the only one that Rossi feels karma has come back to haunt.
Before Rossi's ex fiancé Jeff Bietzel died from cancer in 2009, Rossi faced serious criticisms. She tells RadarOnline.com, "The truth is that anyone who has ever watched the show attacked my credibility and my authenticity with Jeff."
"The thing that I find the most crazy is that I was raked over the coals by Tamra and Vicki when one of my family members were sick. Lo and behold, now Vicki is in the same position that I was in!"
"It doesn't feel good to have people second guessing you like both Vicki and Tamra did to me at the time," she adds.
Do you think that Gretchen Rossi should return to Real Housewives or Orange County? Tell us your thoughts in the comments.