Fighting For His Life: Gene Wilder Shockingly Frail As Friends Fear Cancer Has Returned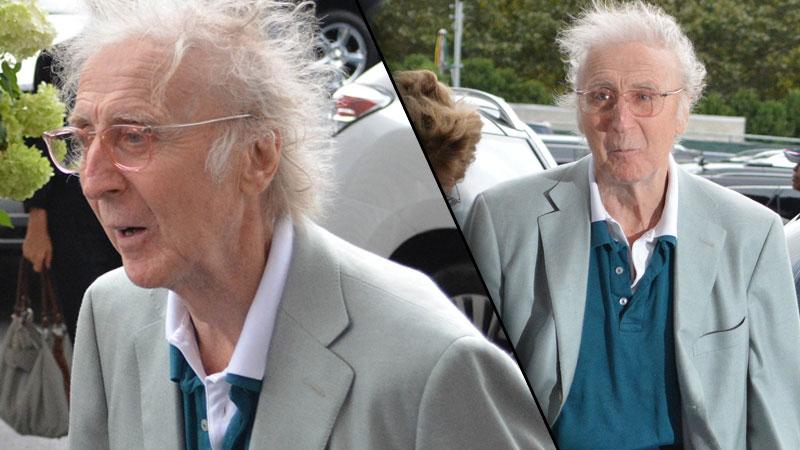 Gene Wilder was one of the most lively comedic actors of his time, but as of late, he has become a shell of his former self as friends fear that his cancer has returned.
The 82-year-old Willy Wonka And The Chocolate Factory star was recently spotted at the U.S. Open Tennis Championships in New York with his fourth wife Karen Boyer, who helped steady her frail husband during this rare public outing.
"Gene looks at death's door," an eyewitness told RadarOnline.com exclusively. "It's terribly sad. He's scarily thin and could barely walk had not he been helped by his wife Karen and an attendant."
Article continues below advertisement
Cancer has haunted Wilder and his family over the decades. His wife Gilda Radner died of ovarian cancer, and then ten years later in 1989, Wilder himself was diagnosed with non-Hodgkin's lymphoma. After undergoing chemotherapy and a stem cell transplant, Wilder was finally considered to be in remission in 2005. But now, as Wilder wastes away, neighbors fear that his cancer has returned to rob him of his hard-earned health.
"There's fear around here that the cancer has returned and he could be gone in as little as six months' time," the neighbor told Radar. "Everyone's praying that's not the case, but he looks awful like he's dying."
Despite these fears, Boyer wants to assure people that her husband is healthy. "(He's) just fine. The cancer hasn't returned
and he's as active as any man his age can be. He still gets out and about."
Nonetheless, a friend tells a much different story. "They're putting on a brave front but he's not well. And while Karen brought him tremendous happiness after Gilda's passing, there's no question Gilda was the love of his life and when he joins her in Heaven the jokes will flow."