Viola's Groundbreaking Speech, A Shocking Response & Much More –– The Best & Worst Moments Of The 67th Primetime Emmy Awards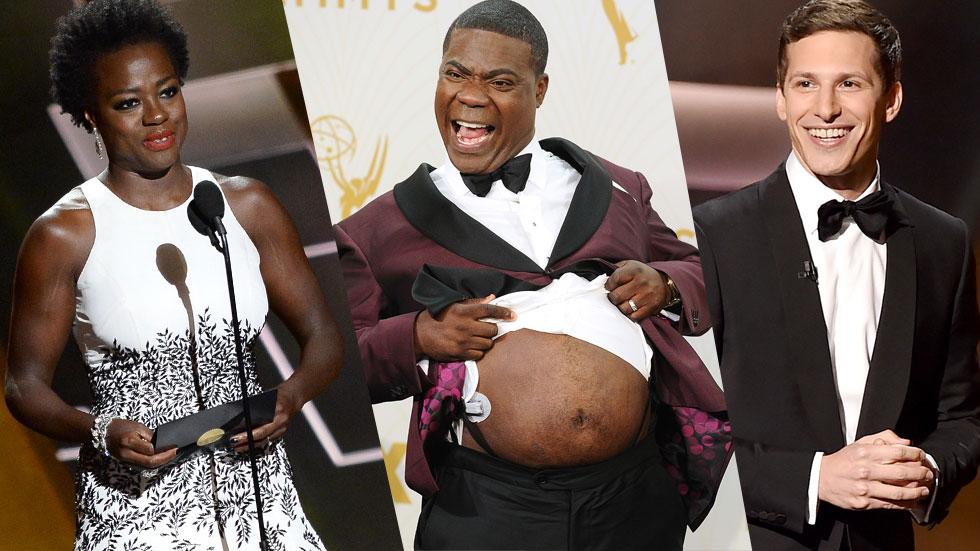 RadarOnline.com has the best and worst moments from Sunday's 67th Primetime Emmy Awards, including a landmark win and a shocking return.
'Simply Opportunity': Of a night packed with memorable moments, none stood out so much as Viola Davis' acceptance speech after becoming the first African American actress to win the honors for Best Lead Actress in a Drama Series, for her efforts on How to Get Away With Murder. The 50-year-old beauty told the crowd that "the only thing that separates women of color from anyone else is simply opportunity -- you cannot win an Emmy for roles that are simply not there." She continued, "So here's to all the writers, the awesome people: people who have redefined what it means to be beautiful, to be sexy, to be a leading woman, to be black." The groundbreaking star added, "to the Kerry Washingtons, Taraji P. Hensons, Meagan Goods ... thank you pushing us over that line."
Article continues below advertisement
Watch the video on RadarOnline.com
Shocking Response: Viola's speech was clearly inspirational and a standout moment, getting immediate feedback in the form of encouraging tweets from stars such as Ellen DeGeneres, Sean "Diddy" Combs, Andy Cohen and Shonda Rhimes, among many others. But one of her Hollywood peers -- General Hospital star Nancy Lee Grahn -- wasn't so impressed with it. She took to Twitter writing, "Im a f--king actress for 40 yrs. None of us get respect or opportunity we deserve. Emmys not venue 4 racial opportunity. ALL women belittled," later tweeting to a fan that Davis, "brilliant as she is ... has never been discriminated against." The reaction was fast and furious, and Grahn was quick to backtrack on her earlier statements: "I never mean to diminish her accomplishment. I wish I could get her roles. She is a goddess. I want equality 4 ALL women, not just actors. I apologize 2 anyone who I offended. I'm women advocate since I became one. After reading responses, I hear u and my tweet was badly phrased." She then added, "I apologize for my earlier tweets and now realize I need to check my own privilege. My intention was not to take this historic and important moment from Viola Davis or other women of color but I realize that my intention doesn't matter here because that is what I ended up doing. I learned a lot tonight and I admit that there are still some things I don't understand but I am trying to and will let this be a learning experience for me."
About Time: Jon Hamm finally collected an Emmy for his iconic role of Mad Men's Don Draper after a whopping 16 unsuccessful attempts. The dapper star, indirectly addressing his stint in rehab earlier this year, said that "life throws a lot at you sometimes, and you have to deal with it as much as you can." The 44-year-old hunk joked it was "a terrible mistake, clearly," that it took so long for him to win. He surprisingly hailed his ex-girlfriend Jennifer Westfeldt and the dog they owned, Cora, in his acceptance speech. "It's incredible and impossible for me personally to be standing here so I want to thank the people to whom I owe an incredible debt: Cora and Jen, thank you all very much, I would not be standing here without you."
Article continues below advertisement
Watch the video on RadarOnline.com
Comeback Trail: Tracy Morgan received a standing ovation from the crows with a shocking unannounced appearance in the wake of last year's deadly car crash that killed his friend Jimmy Mack, and derailed his own life and career. The comic told the crowd, "Last year, Jimmy Kimmel said on stage, 'I'll see you next year,' Thanks to my doctors and my beautiful wife, I'm here standing on my own two feet." Morgan said that "only recently have I started to feel like my self again." Morgan later told the media that Sunday's event was "overwhelming" and "so emotional" as another step on his road to recovery. "Part of my therapy was seeing TV and seeing my friends, and saying, 'I'm coming back;' I just hope my tragedy and Jimmy's death isn't in vain ... if God can get you to it, he'll get you through it. I'm here. We'll get through it, and that's all my wife kept saying -- 'You'll get through it. You'll get to the funny again.' And we did that tonight."
Watch the video on RadarOnline.com
No Holds Barred: Host Andy Samberg didn't hold back in his humor at the event, delivering over-the-top jokes that took shots at Bill Cosby and Jared Fogle, among others. He said, "I have to say I'm so proud to join the ranks of past Emmy hosts like Robert Blake and Bill Cosby. Oh, no! I have to get out of here. Between Bill Cosby, Jared Fogle and Robert Durst, not a good year for dudes who love hoagies." Samberg also touched on cultural hot buttons, saying that 2015's nominees were "the most diverse group of nominees in Emmy history, so congratulations Hollywood, ya did it! Racism is over! Don't fact-check that." Samberg also made waves in revealing his HBO Now password, which was operational for a short time after the comic's prank.
Watch the video on RadarOnline.com