Exclusive
Summertime Sadness: Rough Times For 'Devastated' Couple Ellen & Portia — Why 'Both Really Down Right Now'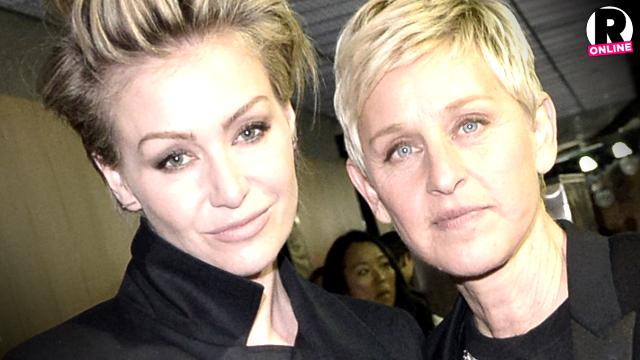 Ellen DeGeneres and Portia De Rossi should have every reason to celebrate — they've been married for seven years and the talk show host's Emmy Award winning program is about to enter its thirteenth season.
Despite their many successes, "Ellen and Portia are both really down," an insider tells RadarOnline.com exclusively.
Sadly, the reason has nothing to do with anything they could control. On August 30, two weeks after the couple celebrated their latest wedding anniversary, DeGeneres took to Twitter to share an intimate photo of the moment she told De Rossi 'I Do' — and break some very sad news.
Article continues below advertisement
DeGeneres, 57, wrote on the photo's caption: "The world has lost an incredible man. Wayne Dyer officiated our wedding & was an inspiration to so many. Sending love."
"They were really devastated by this," the source says of DeGeneres and De Rossi, 42. "Wayne was really close to both her and Portia and was a big part of their lives."
"When Ellen went into work, she told the staff that they need to appreciate the people that they love because they never know when they will be taken away."
"She also told them that the loss of Wayne has brought her and Portia closer together," says the source.
"Since then, Portia has been to work with Ellen as she gets ready for the new season and the two of them are very solid right now."
According to a friend, "Ellen and Portia had a beautiful summer together and now they are both ready to get back to work."