Plastic Surgery Secret? Top Docs Claim Ellen DeGeneres Had 'Facelift' & 'Necklift'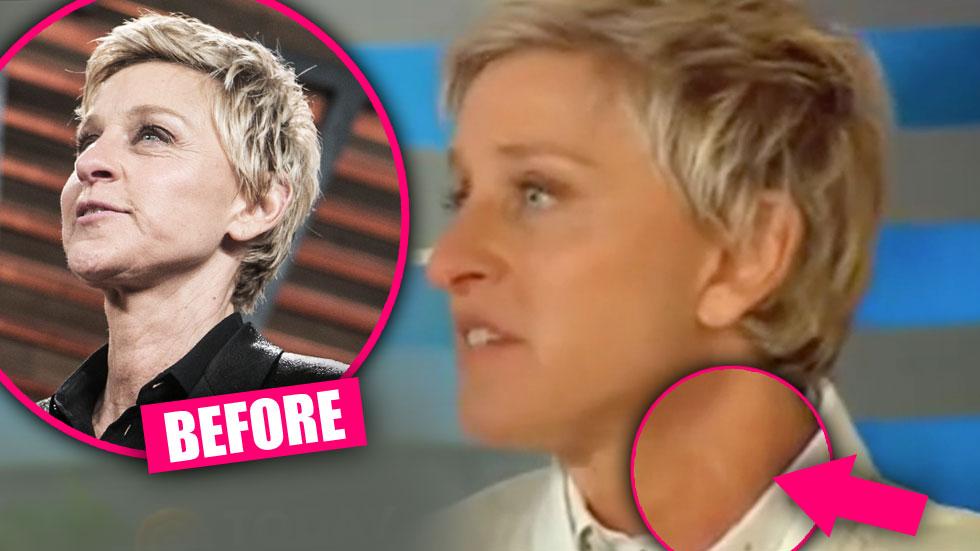 Ellen DeGeneres is one of the famous faces of the CoverGirl beauty brand – but according to a new report, she may be relying on old-fashioned plastic surgery to get her fresh look!
Portia de Rossi's talk show wife has had more work done to her face and neck, multiple sources told The National ENQUIRER.
Studio insiders scored photos of the 57-year-old TV star sporting new scars on her neck while shooting her show – and top doctors believe that she's had more work.
Article continues below advertisement
"The noticeable scars on her neck are most likely a result of a facelift and/or neck lift," renowned New York City plastic surgeon Dr. Ramtin Kassir, who has not treated DeGeneres, told The ENQUIRER.
"Scars are often a telltale sign of plastic surgery, and her neck and jawline appear rejuvenated and defined. At her age, she doesn't have sagging skin, and her skin appears smooth and wrinkle-free – a sign of surgical and nonsurgical procedures to tighten loose skin and restore volume loss."
Chicago-based facial surgeon Dr. Steven Dayan, who has also not treated DeGeneres, agreed. "It appears that she probably had a face and neck lift," he said. "Her jawline is clean and sharp – the neck muscles conjoin in the center of the neck, which is commonly seen when they are tied together."
"They're usually tied through an incision that is located under the chin and that can leave a scar, but it usually hides very well. Looks like she went to a good surgeon!"
Article continues below advertisement
The ENQUIRER reported last November that the comedian has let an obsession over her facial features turn her into a plastic surgery fan.
A production insider claimed Ellen has been Botoxed, peeled and lifted so much it's become a challenge for her makeup team to conceal the scarring.
The source said, "It usually takes them about two-and-a-half hours to give Ellen that peaches-and-cream glow that her fans love."
Dr. Stuart Fischer, a New Jersey–based surgeon, ruled out other procedures as causes for the scars. "It's almost impossible to be a cancer," he said.
"Thyroid cancer would be in the front, and a lymph node cancer would be under the ear. The incision would be much smaller for either. Only plastic surgery requires such a lengthy incision."
But DeGeneres wants to convince fans she's anti-glamour, according to the insider.
Said a source, "She pretends not to care, but she's a sucker for new procedures."