Nightmare Marriage! Ellen DeGeneres & Portia de Rossi Living Separate Lives, Friends Fear $220 Million Divorce Battle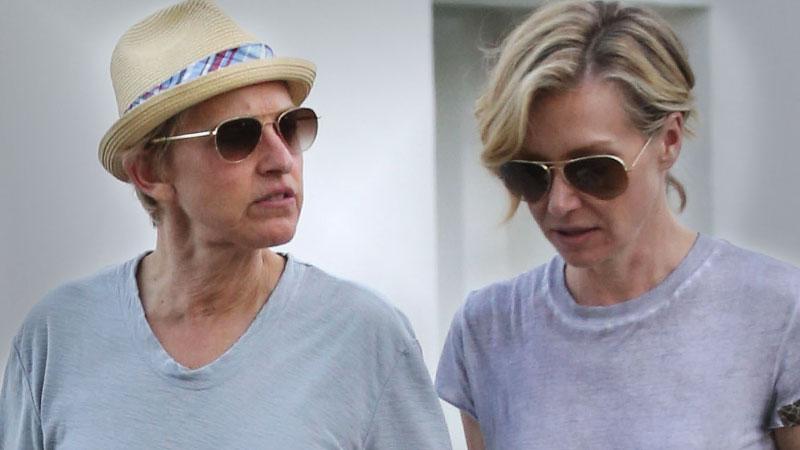 Ellen DeGeneres and wife Portia de Rossi are reportedly leading separate lives, leaving friends fearing they are headed for an explosive $220 million divorce battle!
The National ENQUIRER conducted an exclusive, weeklong investigation into the Hollywood power couple's current living arrangements. An undercover team observed DeGeneres, 57, frequently traveling between her main residence in West Hollywood to a separate L.A. hideaway, where she's believed to be splitting her days and nights.
Article continues below advertisement
Meanwhile, deRossi, 42 is staying at the couple's sprawling West Hollywood property.
Adding fuel to the fire, The ENQUIRER revealed the two are also spending their downtime separately — even though DeGeneres' talk show is currently on a hiatus!
"Things have definitely been difficult for Ellen and Portia recently, so it's no surprise to hear they're spending time apart," an insider said.
"It's clear something's not right, because Ellen and Portia have gone from being totally inseparable to barely doing anything together," the insider divulged.
"There was a time they were joined at the hip and would make every moment count when Ellen had time off. Sadly, that appears to be a thing of the past, and you have to wonder what's up in their marriage."
Days before the pair's solo outings, they were all smiles at the GLAAD Awards. Just a few days later, the troubled couple was spotted leaving Cedars-Sinai Hospital, looking anything but happy.
Sources close to the situation also noted that while the women are keen to present a united front when the cameras are rolling, behind the scenes it's a different story.
Article continues below advertisement
"Ellen and Portia are very concerned with their public image, but there's a growing sense they're faking their happiness for the cameras," one source told The ENQUIRER. "There's been a huge amount of tension behind the scenes for months, and although they deny it, it's well-known within their inner circle that they've been through an extremely rocky patch that very nearly wound up in the divorce courts."
For more exclusive details on DeGeneres and de Rossi's fractured relationship, including exclusive photos of DeGeneres enjoying an intimate outing with a mystery woman on March 23, pick up the latest issue of The National ENQUIRER, on newsstands now.