'This Is Really Confusing': Ellen Degeneres Can't Understand How Caitlyn Jenner 'Still Has A Judgment About Gay Marriage'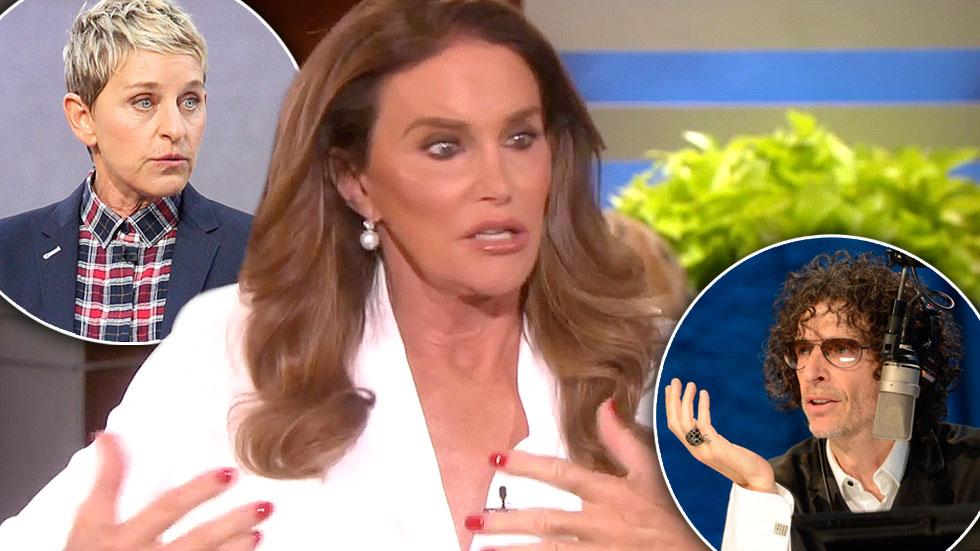 Two media icons locked horns Tuesday when Ellen DeGeneres made her first appearance on The Howard Stern Show, in a chat that included revelations about Caitlyn Jenner.
DeGeneres, who recently interviewed Caitlyn Jenner for her TV show, told Stern that she's baffled how the transgender icon, an avowed Republican, still remains tied to her conservative beliefs.
"She still has a judgment about gay marriage," DeGeneres, 57, told Stern, 61. "I said, 'You're wanting people to understand and accept you, this is like really confusing to people. And you want us to understand, and that you still have a judgment about gay people and marriage.'
Article continues below advertisement
"And she goes, 'Well, she said if the word 'marriage' is that important ... and I was like, 'It is, because that's the word.' Like, we want the same thing."
Watch the video on RadarOnline.com
DeGeneres told Stern that Jenner "didn't dance" -- as is custom on the show -- speculating, "maybe she didn't want to dance with me cause I'm a lesbian."
DeGeneres -- calling her exchange with Jenner "a great interview" -- said she's "trying to understand" Caitlyn's life change "because I don't fully understand it either.
"But I also want everyone to be happy ... which is what I want for her, for me."
Elsewhere in the chat, DeGeneres called her short-lived stint on American Idol "one of the worst decisions she's made" in her career.
She that she believed she could be a voice of the people, despite music not being her primary business.
"As a fan of the shows, it doesn't matter that I sing or I know anything about pitch or anything, I'm like everybody else at home -- it's American Idol. So I thought I'm gonna represent those people at home that have opinions."
Article continues below advertisement
The Howard Stern Show airs weekdays on SiriusXM.