Sad Farewell: Celine Dion Gives Emotional Tribute To Dying Husband During Concert - Watch The Heartbreaking Video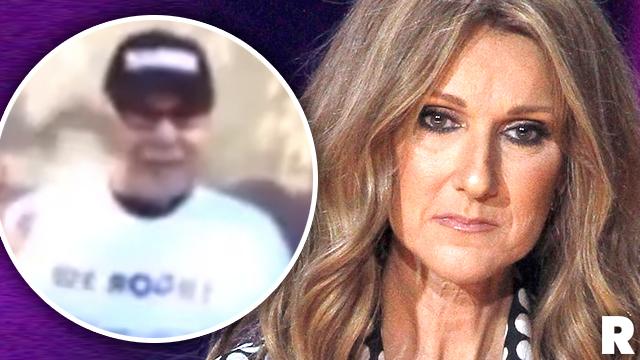 Celine Dion has vowed that the show must go on, though her ailing husband, René Angélil, may soon never hear her sing again. Cancer-stricken Angélil offered a gentle wave to fans of his wife at a recent concert in a video uncovered by The National ENQUIRER and it will likely be the last glimpse ever seen of the singer's husband, currently in the final stages of a long battle with throat cancer.
Last August, Dion cancelled all upcoming performances to care for Angélil and their family, which includes son René-Charles, 14, and four-year-old fraternal twins Eddy and Nelson.
Article continues below advertisement
Despite his condition, Angélil has urged Dion back to the stage and followed her to their luxurious Nevada compound, where he is spending his last days receiving the finest round-the-clock care and surrounded by family.
Dion has also updated her Las Vegas show to include an intimate tribute to the man she married 20 years ago and describes as "the only boyfriend I've ever had."
She had hoped he would be able to sit in the front row when she returned on Aug. 27, but Angélil — who is hooked up to a feeding tube and earlier this year was unable to swallow or talk — was too ill, instead watching a special live feed at the couple's home.
During Dion's 12 years performing at Caesars Palace, her show has changed a great deal, but her current performances are the most personal she has ever performed, a clear tribute to her husband!
WATCH HER HEARTBREAKING TRIBUTE
"Usher Mike" — whose name we have changed, as he was not authorized to speak by Caesars Palace — told the ENQUIRER: "She's changed most of the songs in the set."
"Her husband is really, really sick, so it's an amazing thing she's keeping on performing. I guess, in a way, it helps her take her mind off it. You can really tell there's a lot of passion going into each performance."
Article continues below advertisement
During her set she speaks to the crowd, telling them how grateful she is for their support. At the show The National ENQUIRER attended, she said: "I hope that by now you have got the message that tonight's show is very, very personal to me."
The main set ends with a stirring rendition of Queen's 1991 classic, "The Show Must Go On," which appears to be something of a promise from Celine to René, who has been the driving force behind her career since she was a teenager.
In 1999, Angélil was diagnosed with throat cancer and has undergone a number of surgeries to treat it, including a 2013 operation, which led to part of his tongue being removed.
Now Dion and her children must cope with his final days. Agonizingly, the source said, even his doctors cannot tell how long he has left, and they have to take each day as a gift.
As Dion herself recently said, "It's important to open your eyes in the morning and look at yourself in the mirror and ask two questions: 'Are you dead, or do you have a ticket to ride?' There are just two tickets. If you're alive, have a good day. Because today is the most important day of your life."
What do you think about Celine's touching tribute to her husband? Sound off in comments below.