Downward Spiral: Carly Fiorina's Addict Daughter Lori Arrested For Extreme DUI Two Years Before Overdose Death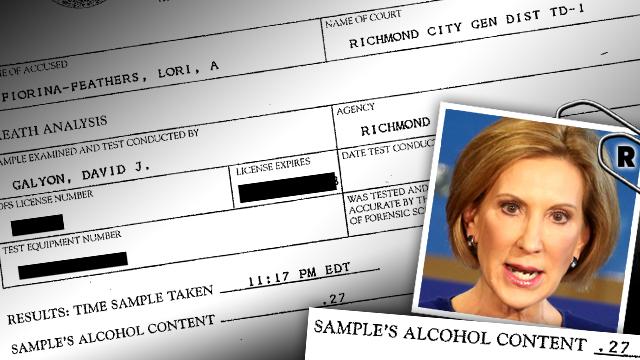 When Republican presidential hopeful Carly Fiorina says she learned her stepdaughter, Lori, had succumbed to alcohol and prescription drug addiction at just 34 years old, she felt her heart "breaking apart into a thousand shattered pieces."
But Fiorina and her husband, Frank, were likely in just as much pain while their troubled daughter was still alive.
RadarOnline.com can exclusively reveal that Lori Ann Fiorina-Feathers was arrested for driving while blackout drunk near her Richmond, Virginia, home on July 4, 2007— just two years before her untimely death.
Article continues below advertisement
According to Richmond General District Court papers obtained by Radar, Fiorina-Feathers was pulled over by an officer just before midnight on July 3.
READ THE SHOCKING COURT DOCUMENTS
She submitted to a breathalyzer test, and was discovered to have had an extremely high blood alcohol level of .27.
According to the University of Notre Dame, a BAC level of .25 can cause alcohol poisoning and/or loss of consciousness.
She likely could not walk, and was in a state of "total mental confusion."
Fiorina-Feathers, who was noted to be just 105 pounds on her 5' 5" frame, was arrested at 12:39 AM, and placed behind bars.
On July 5, she was bailed out by her then-husband, Christopher Feathers.
At her hearing, she agreed to check into rehab.
"Defendant to enter treatment…as a condition of Bond," the judge noted in court papers.
She later pled no contest to charges including DUI and DUI with a BAC greater than .20.
She was sentenced to 12 months in jail, but only 10 days mandatory to serve behind bars. She was allowed to complete the remaining time through weekend community service.
Her driver's license was suspended for one year.
Though she filed to appeal the sentence, the appeal was ultimately withdrawn.
Just two years later on October 12, 2009, Fiorina-Feathers was found dead in New Jersey after her worried parents asked local police to check on her.