Say What? Caitlyn Jenner Tells Ellen DeGeneres She Did Not Approve Of Gay Marriage – 'I Am A Traditionalist'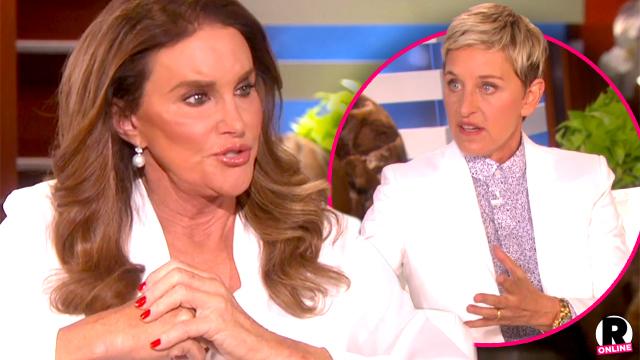 In her first television interview since transitioning, 65-year-old transgender superstar Caitlyn Jenner sat down with Ellen DeGeneres for an interview that will kick off season 13 of The Ellen DeGeneres Show.
But when the openly gay talk show host wife of Portia De Rossi brought up the topic of gay marriage, Jenner's answer left the stunned audience in complete silence.
"A lot of Republicans, I don't want to speak for everyone, would vote against all the issues that you as a woman and you as a trans person would want to support. And same sex marriage," DeGeneres said.
Article continues below advertisement
Jenner replied, "I have to admit that I remember 15 years ago, 20 years ago, whenever it was that the whole gay marriage issue came up, I was NOT for it."
"I am a traditionalist. I mean, I'm older than most people in the audience. I like tradition and it's always been between a man and a woman and I'm thinking I don't' quite get it."
"But as time goes on, like a lot of people on this issue I've really changed thinking here, to I don't ever want to stand in front of anybody's happiness," she said. "That's not my job. Ok. If that word marriage is really, really that important to you I can go with it."
"It's funny because you're still a little not on board with it," DeGeneres hit back.
But Jenner insisted that she was, saying, "No I'm on board. It's going to be pretty much the law of the land. So I still feel like yeah, I'm ok with it. I don't want to stand in front of somebody's happiness."
Click on the video below to watch the interview.