F-Words & Fights In Front Of The Kids! Leah Messer's Ex Corey Simms Accuses Her Of More Bad Parenting Moves: 'You're A Fake A** Mom!'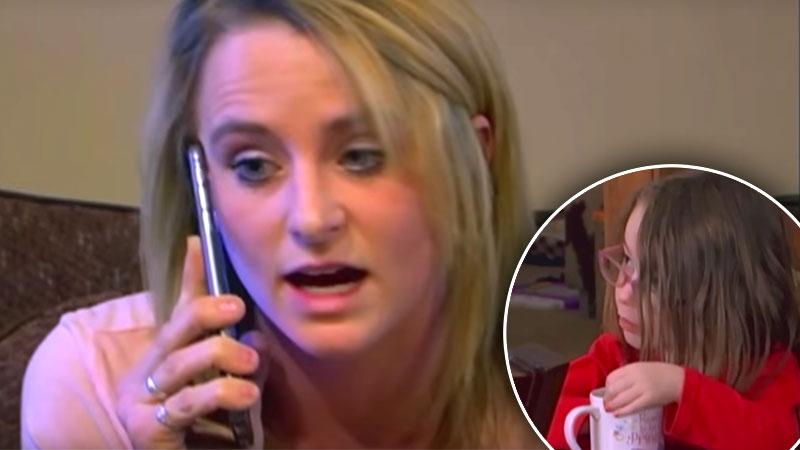 Article continues below advertisement
During the video, Messer sits down on the couch as her sick daughter Aleeah, 5, paints her nails nearby with twin Ali and little half-sister Adalynn, 2.
Though Leah's friend Amber is somewhat supervising, the kids seem to be taking the reign on playing with the paints and nail polish remover.
While the girls focus on their grownup activity, the reality star calls up Simms to tell him she isn't interested in giving him school day custody because she feels "like the girls need a stable place during the week."
Simms, who was patiently waiting for Messer to consider his request, explodes.
"You think your place is stable?…I know for a fact that they haven't been where they're supposed to be," he fumes. "I know that they're late for school every day. I know that Ali didn't go to therapy today."
When Messer explains that she couldn't take her disabled daughter to the doctors due to Aleeah's illness, Simms doesn't accept the explanation.
Article continues below advertisement
"There's always an excuse," he counters.
"You're not doing what you're supposed to do. Get your sh*t together and do what you're supposed to do and there will be no issues," Simms continues. "Do you feel you're the best mom you can possibly be right now?"
"No, I don't think I'm perfect," Messer replies.
"You're a fake a** mom right now!" he yells. "…They tell me how you say the F-word all the time. How's that for a mother? How you and Jeremy fight so bad that they have to hide in the laundry room. And that they're scared."
Messer begins screaming at Simms, calling the allegations "lies" and dropping curse words— while her daughters look on in terror.
After filming the scene earlier this year, Messer checked into rehab for what sources told RadarOnline.com is a prescription painkiller problem. (MTV reps claim she sought help for depression and anxiety.)
She finalized her divorce from Calvert in June, and as RadarOnline.com exclusively reported yesterday, is now living with her new boyfriend, personal trainer T.R. Dues, 32, in a large Charleston, West Virginia, home.
Are you Team Corey or Team Leah? Sound off in the comments, and watch the video below.