Treatment Center's Dark, Dirty Secret: Duggar Rehab Pastor Sentenced To 12 Years In Prison For Sex With Underage Girl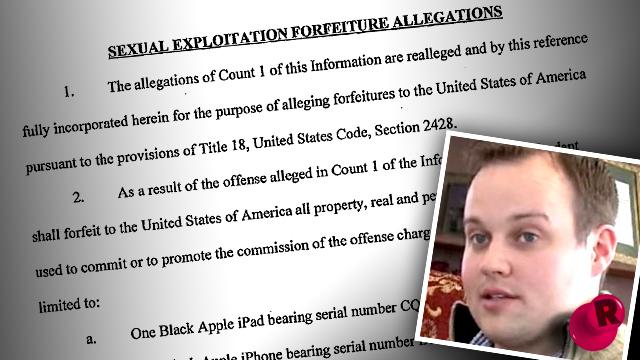 After confessing to cheating on his wife and a porn addiction, Josh Duggar checked into a "faith-based" rehab, believed to be Reformers Unanimous, a Christian treatment center long supported by his parents.
But the Rockford, Illinois-based facility is hiding a dark sex secret of its own.
RadarOnline.com can reveal that a former Reformers Unanimous counselor, Pastor Jack Allen Schaap, was charged with transporting an underage female across state lines for sex.
Article continues below advertisement
According to United States District Court documents, the 56-year-old clergyman— who brought the Reformers Unanimous program to his parish, the First Baptist Church of Hammond, Indiana— had an "inappropriate relationship" with an "underage parishioner" referred to as Jane Doe in the summer of 2012.
READ THE SHOCKING COURT PAPERS
"The relationship started when Schaap was counseling Doe," documents state, adding that the married pastor's assistant discovered sexual photos of the young girl on his iPhone, "including one of her topless lying on top of Schaap, one of him touching Doe's bare breast while kissing her breast, and one of the pair kissing."
Other papers containing illicit details of the affair were sealed during the trial. However, according to Chicago Magazine, prosecutors discovered that Schaap groomed and manipulated his victim.
Doe told officials that she asked Schaap, a father of two, if it was wrong to kiss, but he assured her that God approved of their behavior.
"This is exactly what Christ desires for us. He wants us to marry and become eternal lovers!" a text Schaap sent to the girl allegedly read.
Article continues below advertisement
The magazine claims the couple had sex in his office during a church conference, at his cabin in Michigan, and in an Illinois forest.
On September 18, 2012, Schaap plead guilty to one felony count of criminal sexual assault in a deal with prosecutors.
He was sentenced to 12 years in prison and five years of supervised release.
In June 2014, he appealed his sentencing, claiming his attorneys assured him he would only receive three or four years behind bars if he took the plea deal.
His new counsel also blamed the victim for seducing Schaap.
"Jane Doe had extensive prior sexual experience and acted in a sexually aggressive manner toward the Petitioner," they argued.
A judge dismissed the request two months later, and Schaap remains in prison.
Despite the very public accusations, certain institutions and high-profile people turned a blind eye toward the case.
Until very recently, Reformers Unanimous listed a speech on "doing right" by Schaap under its recommended sermons. (Now RU authorities say they "overlooked" the sermon's mention on the page.)
Article continues below advertisement
Also, Josh's parents, former 19 Kids And Counting stars Michelle and Jim Bob Duggar, promoted Reformers Unanimous by speaking at one of the program's conventions in October 2014—nearly two years after Schaap's sex abuse allegations became public.
How will Josh, 27, learn to recover from his sex abuse issues from counselors who may have similar problems of their own?
As RadarOnline.com has reported, Josh first shocked fans in May when uncovered police reports accused him of molesting five minor females as a teen. Sisters Jessa, 22, and Jill, 23, came forward as victims.
Just three months later, a report alleged he was a member of affair-seeking website Ashley Madison. After his infidelity confession, a porn star came forward with claims she had "rough" sex with Josh two times last spring in seedy Philadelphia hotels.