Teresa's Nightmare! Husband Joe 'Curses' At Daughters & Leaves Them In Tears -- Inside Their House Of Horrors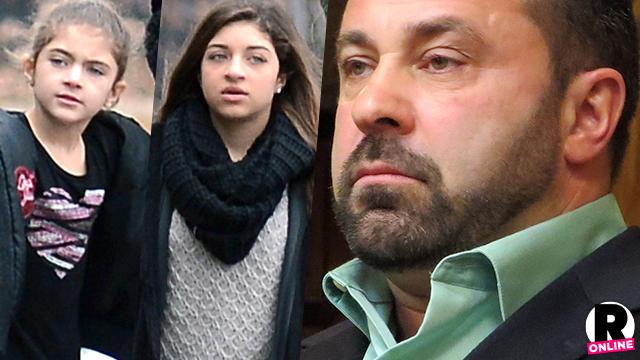 On Aug. 15, cops were called to Teresa and Joe Giudice's Jersey Shore house after their oldest daughter, Gia, was locked out of the house and then overheard by a neighbor getting screamed at by her dad. Sadly, RadarOnline.com has learned that such scenes are not unusual for the Real Housewives of New Jersey star. According to insiders, Joe's erratic behavior "scares" his kids and often leaves them in tears.
Article continues below advertisement
"He curses and yells at his daughters," one source claimed. "It's just the way he speaks — and they are often heard crying because of it."
On one particular occasion, the source said, Joe's crude manner got out of control in front of his in-laws.
"Audriana, the youngest, was in the bathtub and the water overflowed and came through the light fixtures in the kitchen," a source close to the family told RadarOnline.com. "Teresa's mother and father were there — and Joe noticed the water and started swearing and cursing like a crazy person."
"He went flying up the stairs yelling, 'Why isn't Audriana monitored?'" the source said. "He was cursing out Gia, who was supposed to be watching Audriana, and he yelled at Audriana as well."
"The girls were crying because they were scared of their father," the source said, so Teresa's parents got involved and tried to protect the little girls.
"Teresa's mother ran up and grabbed Audriana and screamed, 'She's only a baby. She's only a baby!'" the source claimed. "And Teresa's dad scolded Joe and said, 'I never swore or yelled like that in front of my children in my life.'"
Article continues below advertisement
But even worse, the source said, is when Joe isn't around and Gia, 14, Gabriella, 10, Milania, 9, and Audriana, 5, are left to fend for themselves.
"It's not enough supervision for four little girls," the source said. "When you have four girls, they are always going to be getting into mischief — and he doesn't seem to care or pay any attention to them."
Instead, he's spending more and more time away from his family now that Teresa is away in prison.
"He's always at Rails Steak House in his town in Towaco, N.J.," the source said. "He's in there almost every single night with his other woman." The restaurant confirmed to RadarOnline.com that he is a regular.
"He goes there for hours and sits at the bar while his girls are at home," the source continued. "He's drinking and getting wasted instead of being at home with his daughters."
But Joe's increasing neglect stems from his own impending incarceration, the source claimed.
Article continues below advertisement
"Joe knows he's going to jail in a couple of months, so his miseries are more important to him than his daughters," the source said.
Meanwhile, "Teresa's mother and sister-in-law and her mother-in-law take turns watching them," the source claimed. "And if he can't find someone to watch the girls, Gia is watching them."
"At 14, Gia's too young to be watching to other little girls," the source said. "She should have a babysitter. She should be supervised. She's supposed to be a teenager — not a permanent babysitter."
But ultimately, despite his downfalls, Joe's daughters are still all daddy's girls.
"They love their father – they don't know anything different," the source said. "When you are raised like that, you think that's normal."