Jennifer Aniston & Justin Theroux Honeymoon In Bora Bora With A-List Pals –– All The Details On Star-Studded Vacation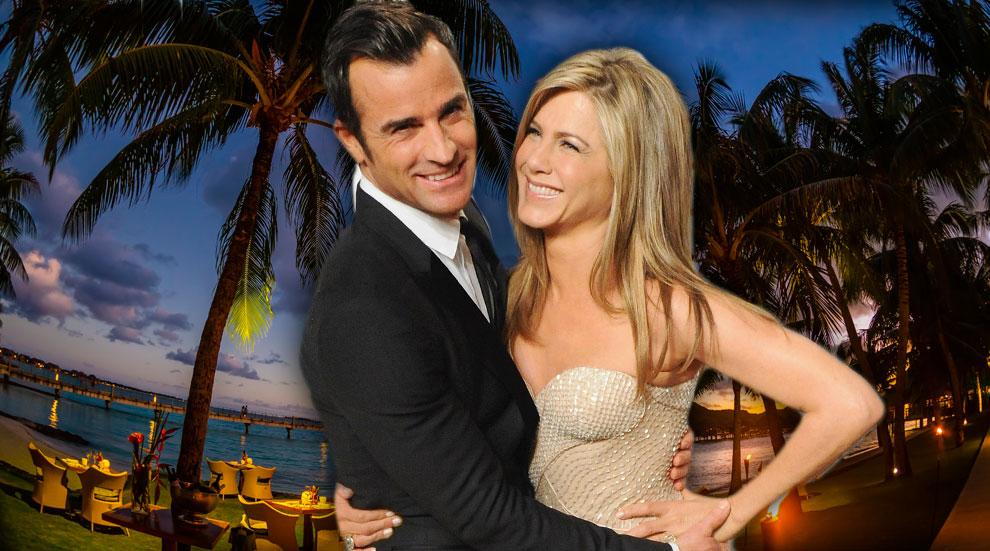 Jennifer Aniston and Justin Theroux "wanted the celebration to continue" after their gala wedding with a guest list of celeb pals on their lavish honeymoon in Bora Bora.
The 46-year-old Friends star and The Leftovers star, 44, were joined by stars such as Jimmy Kimmel and Jason Bateman, US Weekly reports.
Following their wedding last week in Bel Air, Calif., they traveled to French Polynesia via private jet early Aug. 6, and hitched a boat ride to the Four Seasons Resort, the outlet reported. On the boat, sources said that "Jen and Justin sat in the front by themselves" and the beauty "rested her head on Justin's shoulder and was leaning into him."
Article continues below advertisement
The newlyweds have also enjoyed plenty of private time in a villa that costs $4,000 nightly, including a private pool. In downtime, Theroux has been working out while Aniston has gotten spa treatments in the lavish space, sources told the magazine.
"Jen loves to relax -- it's the same as her trips to Cabo San Lucas, Mexico: She eats, drinks, and lies in the sun," an insider said.
In another new development, sources told the magazine that Aniston had gone to the trouble of having shipments for the wedding funneled through a neighbor's mansion to keep things under wraps.
Article continues below advertisement
"There were no deliveries through the front gate of Jen's house -- they use the secret back pathway for everything," sources said.
As RadarOnline.com previously reported, the pair met in 2008, began dating in May 2011, and made their engagement public in August 2012. They married Aug. 5 in a top-secret ceremony that included guests such as Jennifer Meyer, Emily Blunt, John Krasinski, Lake Bell, Samantha Ronson, Terry Richardson, and Howard Stern, who gave a rousing speech to the new couple.
"The trip is her last bit of relaxation before she goes back to work," a source told the magazine.
The actress will get back to work in her native LaLa Land in a week, when her new film She's Funny That Way premieres Aug. 19, before opening nationwide Aug. 21.