'You Know The Truth!' Jenelle Evans' Fiancé Nathan Griffith Sobs During Arrest For Abuse Claims -- Watch The 'Teen Mom 2' Clip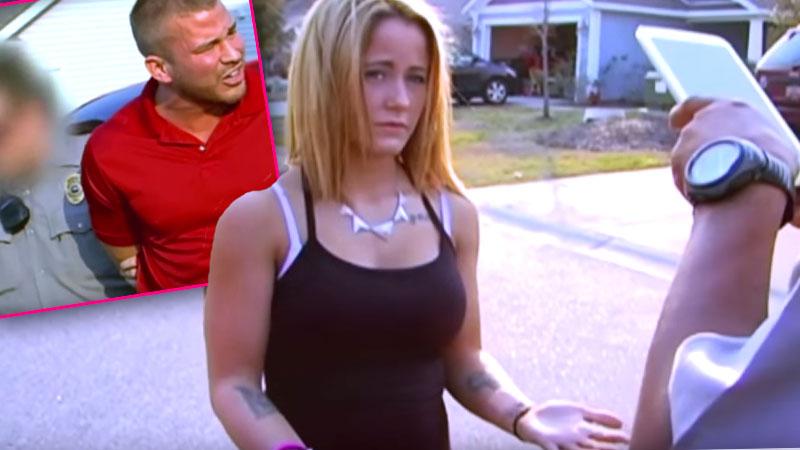 MTV cameras were rolling back in March when Jenelle Evans and Nathan Griffith got in an explosive fight that ended with him behind bars. Now, footage of the incident has been released for the first time in a preview clip for Teen Mom 2.
The clip opens with a 911 call, which RadarOnline.com exclusively published at the time, featuring a panicked MTV staffer telling the operator about the scary situation.
"A couple is fighting," the woman says. "Please send the police right away. We heard her screaming 'Get off me, get off of me.'"
Article continues below advertisement
The operator tells the caller that the police are on the way, and the next scene shows the Myrtle Beach, South Carolina police leading a screaming Griffith out of the house in handcuffs.
"Jenelle you know I didn't do anything," Griffith yells at his then-fiancé. "Please Jenelle, can you tell them I didn't do anything?"
A calm Evans shows the police officers the marking on her left hand, her ring finger, after she claimed that Griffith ripped her engagement ring off her hand when they were fighting.
"Is this the only thing as far as injuries?" the cop asks her. "I have a bruise on my thigh but you guys can't get to that," she responds.
Griffith is an emotional wreck as he is loaded into the back of the police car, sobbing crying as he yells at Evans.
"Please Jenelle, I've never laid a hand on her I never laid anything on her. Why am I being arrested because I'm a guy?" he screams.
And while she stands there calmly, Griffith pleads with her to stop his arrest: "Jenelle can you please tell them, you know the truth! Jenelle I didn't do anything. Please Jenelle."
Check out the video below and tune into Teen Mom 2 on MTV Thursday at 10/9c.