Exclusive
'Send The Police!' Jenelle Evans & MTV Crew Member Call 911 For 'Domestic Abuse' — Listen To The Desperate Tapes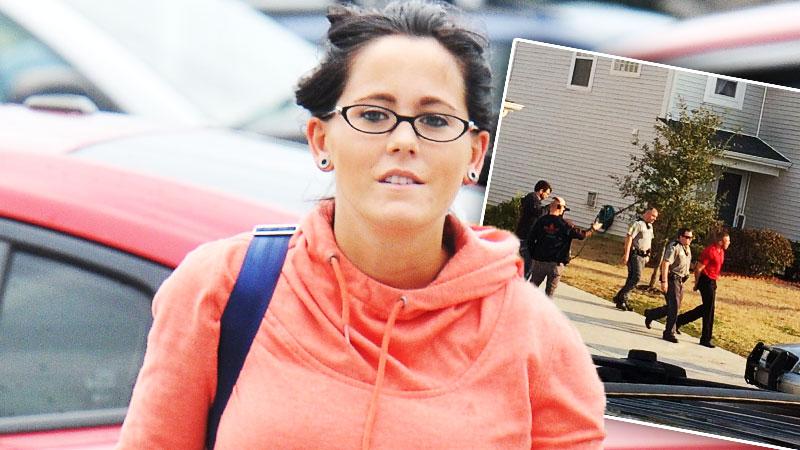 Jenelle Evans and an MTV staffer made phone calls to 911 that resulted in her fiancé Nathan Griffith being arrested on March 4. Now, as Griffith insists he wants Evans back, RadarOnline.com has exclusively obtained the desperate calls revealing what really happened on that terrifying evening.
As RadarOnline.com reported, the Teen Mom 2 star and Griffith were fighting during filming when he allegedly locked the MTV crew outside and yanked her engagement ring off her finger, cutting her in the process.
Article continues below advertisement
However, during the 4:17 p.m. call, Evans does not mention the ring incident, and instead tells the 911 operator that Griffith has taken her car keys and refuses to give them back, prohibiting her from going to school.
"My ex fiancé he's sitting here, he took the car keys from me denying me to go to school tomorrow," Evans said. "Both of our names are on the car. He doesn't even have his license and I can't take my son to school tomorrow."
"They have an officer coming to you because somebody has already called," the operator said.
Indeed, moments before an MTV staffer had dialed 911 as well.
"Send the police, there's a domestic abuse happening," they said, as screams could be heard in the background.
"We are filming with a talent and the couple is fighting," the caller said. "Please send the police right away. … The fiancé is physically abusing his girlfriend.
Article continues below advertisement
"We were locked out of the house and we heard her screaming 'Get off of me, get off of me,'" the caller continued.
"Ok baby I've got somebody on the way," the operator said.
Griffith was subsequently arrested by the Horry County Sheriffs and released the following day on $100 bail. He has an April court date and the judge ordered him to have no contact with Evans until the hearing, although a source told RadarOnline.com that order may be lifted shortly.
What do you think about the 911 calls? Sound off in the comments below.