Exclusive
White House Horror! Hillary Clinton Terrified Of Husband Bill's Bank-Robbing, Drug-Dealing Stepsister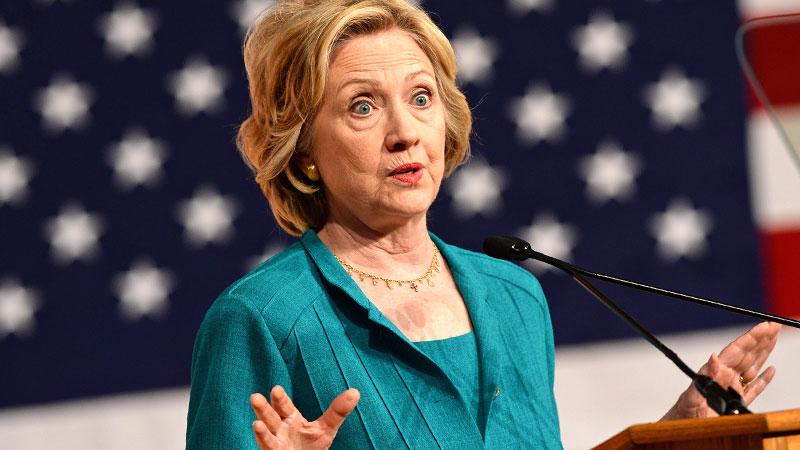 Presidential Hillary Clinton has had to deal with her fair share of scandals involving her husband, Bill Clinton, but RadarOnline.com has exclusively learned that she's scared she'll have to deal with those caused by his sketchy stepsister, too!
Hillary has good reason to be scared stiff. RadarOnline.com can reveal that Bill's stepsister, Dianne Welch, was a bank-robbing, cocaine-snorting criminal sentenced to almost 50 years behind bars.
Article continues below advertisement
Legal documents detail how judges threw the book at Welch for two armed robberies, drug dealing, threatening her lawyer with bodily harm, and even trying to put a hit on a cop.
Welch gave a shocking interview detailing her sordid past and the Clintons' secrets five years before she died in 1998 at age 52.
In the interview, Welch explained that authorities sprung her in 1992 from Mountain View Maximum Security Prison in Gatesville, Texas, where she served just six years and 40 days of her 45-year sentence. At the time, Welch's stepbrother Bill had beat out George H.W. Bush in the Presidential election and took the White House.
"Only days before the election, two of Bill Clinton's Democratic henchmen — both Houston attorneys — warned me to keep my mouth shut about who I really am," Welch revealed. "The lawyers seemed terrified that the press would track me down at such a crucial time."
Welch's father was Jeff Dwire, a convicted con artist who, in 1968, married Bill's mother, Virginia. Both Welch and the future 42nd President, Bill, were 22 at the time.
Article continues below advertisement
"I saw Bill when he came home from college," Welch said. "Bill was very polite and very serious. He never came out to dinner with the rest of the family — he stayed home studying and reading books. As a brother, he was a bit of a bore!"
Image-conscious Hillary is well aware that Welch's life became anything but routine after she turned to crime following the end of her marriage to a Texas oilman in the mid-1980s. It was then that Welch decided to get a .38 pistol and rob the Gold Coast Savings and Loan Bank in Sugarland, Texas, with a 16-year-old accomplice.
"I walked up to the counter, pointed the revolver at a teller and said, 'This is a holdup,'" she revealed. Jessie McClure, the teller at the time, told police Welch demanded: "Get this cash register opened or you get a bullet in the head."
A week later, police apprehended Welch, who netted just $902 in the robbery, and she pled guilty to the robbery, along with a second at a doughnut shop.
Welch managed to get parole despite receiving a hefty sentence — but she was soon in trouble with the law again. In 1986, Welch was arrested after she was caught during a drug deal with 50 pounds of marijuana!
Article continues below advertisement
This time, Welch was handed a stiff 45-year prison sentence because of her prior convictions.
Incredibly, Bill's stepsister wasn't done yet! Welch's lawyer, Matt Leeper Jr., suddenly quit as her defense lawyer, revealing to a court that his client "by way of telephone conversations, threatened defense counsel with bodily harm."
Authorities even claimed that Welch tried to put out a hit on the cop involved in her marijuana bust.
Despite all her bad behavior, in 1992, Welch was granted her freedom after she won an appeal based on a technicality in her case — just in time to see her brother win the Presidency.
Now Hillary fears the sordid past of her husband's late stepsister could threaten to muck up a second Clinton run for the White House all over again.