What 'New Beginnings?' Bethenny Frankel Clashes With Ramona Singer While Sonja Morgan Calls Kristen Taekman 'Brain Dead' On 'RHONY' Season Finale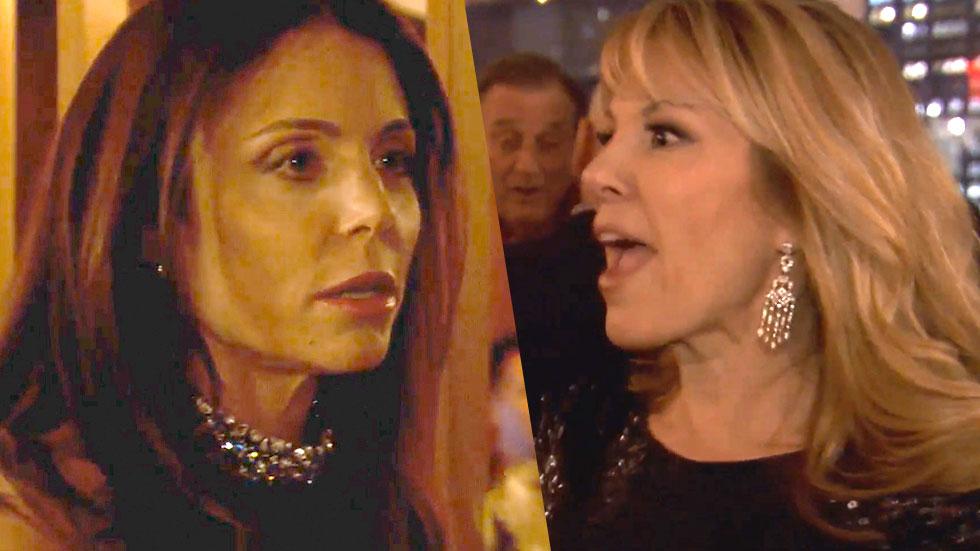 On the season finale of the Real Housewives of New York Tuesday, Ramona Singer clashed with Bethenny Frankel at her "New Beginnings" party.
And despite the good intentions behind the bash, old habits clearly died hard, as her co-stars went out with a bang by fighting with each other the entire time!
In the drama-packed episode, Singer invited her co-stars to celebrate the start of her new life without her estranged husband, Mario Singer.
Article continues below advertisement
"Bad things could happen and it sucks the life out of you," Singer said of her divorce. "But once you deal with it, you could grow from it, learn from it and even celebrate!"
But Bethenny Frankel was skeptical of Singer celebrating a new beginning when she recently spread a rumor about her to Heather Thomson, accusing the Skinnygirl of cheating on her first husband.
When Singer tried to apologize to the Skinnygirl mogul during the bash, Frankel didn't let her off the hook that easy.
"The thing about new beginnings, what does that even mean? It sounds like a bunch of bulls**t," Frankel said. "I think you should be honest and not be an a**hole."
"I was trying to apologize, but if you don't want to take my apology it's okay," Singer responded. "It's nice to forgive people. I'm not a malicious person."
Frankel fired back, "That doesn't excuse acting inappropriately. You talked bad about me."
Article continues below advertisement
When Singer said that she never said a bad word about Frankel, she responded, "You told Heather that I was a cheater. That's talking badly!"
Singer pleaded, "I don't appreciate you attacking me on my night -- I said something I never should've said and it was wrong of me."
Frankel accepted her friend's apology, as Singer commended herself for making amends because "the old Ramona would never apologize."
Watch the video right here on RadarOnline
But not all of the housewives got the new beginnings memo, as Sonja Morgan and Kristen Taekman were the next ones to rumble!
During Morgan's fashion show, Taekman told the press that she wished Singer would release her toaster oven, which was a business venture that fell through.
Morgan screamed to Singer, "I'm not giving her anything else except for a f**king foot up the a**."
Article continues below advertisement
Although Morgan tried to ignore her, Taekman confronted her after LuAnn de Lesseps told her that she was upset over the comment.
Morgan said, "I don't want to talk to you ever again. I don't want be friends with you anymore. Why did you have to bring up the toaster oven?"
Even though Taekman explained that the reporter was the one who brought up the toaster, Morgan refused to believe her.
When Morgan told her that she didn't support her, Taekman yelled back, "I support you more than anybody else in this room. For you to think differently is disgusting."
Morgan ended the fight with, "Are you really that f**king brain dead?"
Watch the video right here on RadarOnline.com Online
The finale ended with de Lesseps battling with Carole Radziwill because she is dating her niece's 28-year-old ex-boyfriend, Adam Kentworthy.
Radziwill explained in her confessional that she heard de Lesseps was "trash talking" the couple. The Countess even said when she saw Kentworthy at the party, "Seeing Adam, it makes me ill."
Article continues below advertisement
She told Radziwill that the situation was "upsetting" at first because "he's a 20-year-old."
"He's not 20 and I resent that," Radziwill said. "That's disrespectful to him and to me. We've all had 20-something year-olds."
De Lesseps responded, "I'm not introducing him to the children."
When Radziwill said that she's not introducing him to "the children" either, the Countess quipped, "I know, because you have none!"
Although the fights between Morgan and Taekman, and Radziwill and de Lesseps weren't resolved, Singer gave a toast thanking her friends.
But not everything could be a new beginning, as Singer screamed over her friends, "Can you shut up and let me talk?!"
Part one of The Real Housewives of New York reunion special airs Tuesday at 9/8c on Bravo.