'Sophisticated' Ben Affleck Nanny Was The Last Straw For His Marriage, Christine Ouzounian Pal & 'Nanny 911' Star Stella Reid Says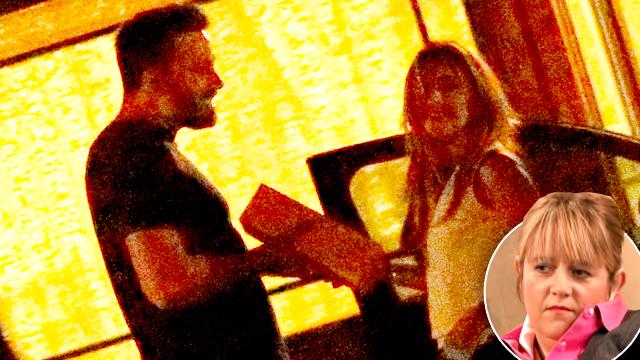 Ben Affleck's nanny, Christine Ouzounian, has found herself at the center of his divorce drama after her relationship with the actor was revealed. She's yet to comment publicly on what really happened, but now, Nanny 911 star Stella Reid has come forward to RadarOnline.com about her secret conversations with Ouzounian -- and why she says she was "the straw who broke the camel's back" for Affleck and Jennifer Garner.
Article continues below advertisement
Reid was the star of the reality show Nanny 911 and now runs an L.A. nanny "matchmaking" business where Ouzounian once interviewed.
"I know Christine as Chrissy," she told RadarOnline.com. "I interviewed her earlier this year as part of my recruitment process. I'm a nanny matchmaker and I was looking for a nanny for a couple and she came to me highly recommended for her honesty and experience."
Ouzounian and her twin sister, Caty, had previously worked for Neil Patrick Harris and David Burtka looking after their twins, which made Reid optimistic. "The person who referred her said Chrissy was absolutely fabulous," Reid, who is the co author, with Julie Swales of The Nanny Chronicles of Hollywood recalled.
"I was looking, as I always do when I interview nannies for someone who was not predatory and who was not looking for a backdoor into a celebrity family," she said, "and, quite candidly, I felt Chrissy genuinely regarded nannying as a vocation. I thought she was very sweet."
Reid noted, "She isn't naïve. She is sophisticated. But she did not come through to me as calculating. She is a hardworking girl and I believed she knew how to navigate the waters of this celebrity arena in which a nanny should be a solution to a family's problems, not part of the problem."
Article continues below advertisement
However, to say that would not be the case with Affleck and wife Jennifer Garner is an understatement. As RadarOnline.com reported, the nature of her relationship with Affleck has been at the center of speculation about his split. Affleck denies any wrongdoing, but Ouzounian has told friends she is still in contact with the actor.
Reid was insistent, "I don't think Christine broke up his marriage. I mean, he stood up when he accepted his Oscar in 2013 and said his marriage to Jen was 'work' and there have been so many reports in the media about his gambling. I think Chrissy is just the straw that broke the camel's back."
Now, she said, "I worry about Chrissy. She has ruined her nanny reputation. When I first heard about what was going on, I texted her and said, 'Hey, this is Stella. I hope you are OK in this storm.'"
"I haven't heard back from her yet."