Jealousy Or Greed? Find Out Why David Hasselhoff Could Boycott Zac Efron's 'Baywatch' Movie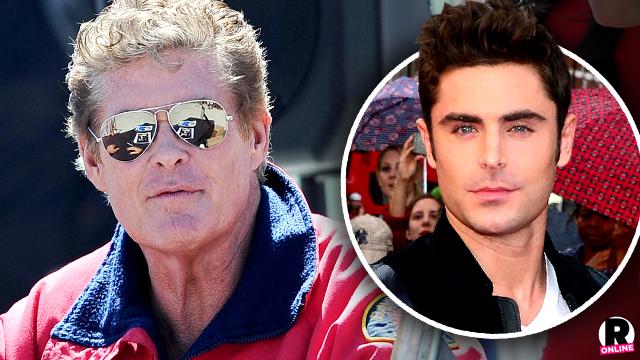 Reformed heartthrob Zac Efron announced on Monday that he will be joining Dwayne "The Rock" Johnson to remake the 90's hit TV show Baywatch into a feature film. But could the movie be missing the man who epitomizes the series, David Hasselhoff?
A production insider told RadarOnline.com exclusively that "The Hoff" has yet to agree to the terms of the contract to appear in the film.
According to the source, "David Hasselhoff has been asked to reprise his role but he wants a ton of money before he signs any deals."
Article continues below advertisement
"David knows that the movie will not survive if he is not involved in some way and he really does want to make it a big success, so he is sure that they are going to work out a deal that makes everyone happy," the source said.
One person, in particular, that is already happy with the way the film is going – with or without Hasselhoff – is Efron, who took to Twitter to share his thoughts with co-star Johnson in a tweet that read, "So stoked brother - baby oil for 2 plz!"
However, not everyone is busting out the baby oil for Efron just yet, as the source tells RadarOnline.com that there is already growing animosity towards the High School Musical hunk.
"Zac Efron was not chosen for this film because of his impeccable acting skills," the source joked.
"This film is not going to win Zac an Oscar either. The only reason that Zac was asked to do Baywatch is because of how he looks when he takes his clothes off."
The insider added, "There is some jealousy with the other actors and him. Look at him…. It is almost unfair to put Zac Efron next to any man on the planet without them feeling insecure!" The doesn't apply to The Rock, of course.
Stay tuned as the chaos that will be Baywatch: The Movie has just begun!
Do you think that David Hasselhoff should reprise his role in the Baywatch movie? Tell us your thoughts in the comments below.