Are The Duggars Silencing Anna's Family? Angry Brother Daniel's Comments Slamming Cheater Josh Mysteriously Deleted, Facebook Account Deactivated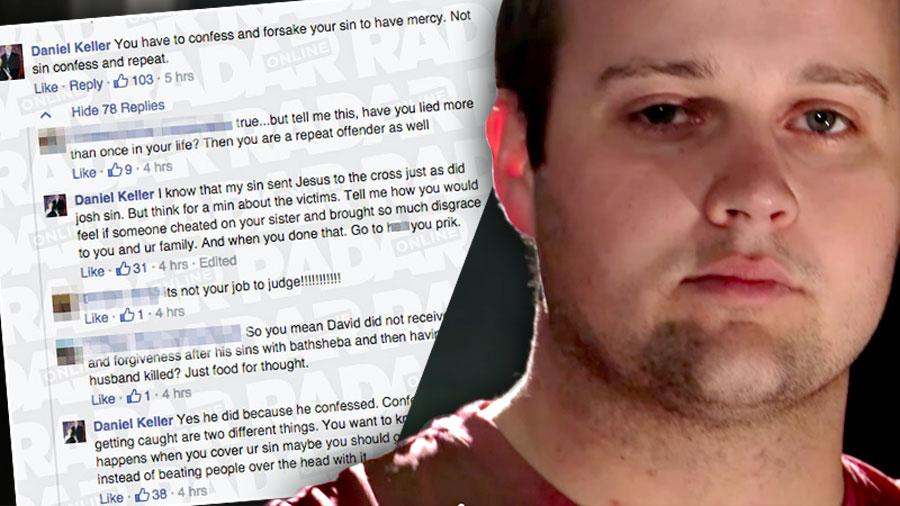 Are the Duggars silencing Anna's protective big brother?
Following disgraced "family values" activist Josh's admission that he cheated on his wife of eight years, RadarOnline.com exclusively revealed that Daniel Keller, 30, spoke out on Jessa Seewald's Facebook page about his brutally honest thoughts on the latest sex scandal.
"I won't stop trying to get that pig out of her family," Anna's angry brother wrote on Sunday evening, adding that he tried to encourage his stay-at-home mom sister, 27, and her four young children to move out of her Arkansas home with Josh, 27.
Article continues below advertisement
While the comments were still posted yesterday beneath Jessa's Bible passage about forgiveness and sin, as of this morning, they have mysteriously disappeared.
In addition, Daniel's very active Facebook page and that of his wife, Candice, have suddenly been deactivated.
Sources tell RadarOnline.com that Jim Bob, Michelle and the former 19 Kids and Counting clan have ordered Anna's Florida family from publicly speaking about the Duggars in the past.
MORE ON:
19 Kids and Counting
"They want all relatives to keep a united front," the insider says, "whether they agree with Josh's actions or not."
Three months prior to Josh's cheating and porn addiction confession, a leaked police report revealed that the father of four and Family Research Council Action executive director was accused of molesting five minor females, including at least two of his sisters, as a teenager.