Exclusive
Anna Duggar's Brother Daniel Keller Slams Disgraced Cheater Josh, Begs Her To Leave: 'I Won't Stop Trying To Get That Pig Out Of Her Family!'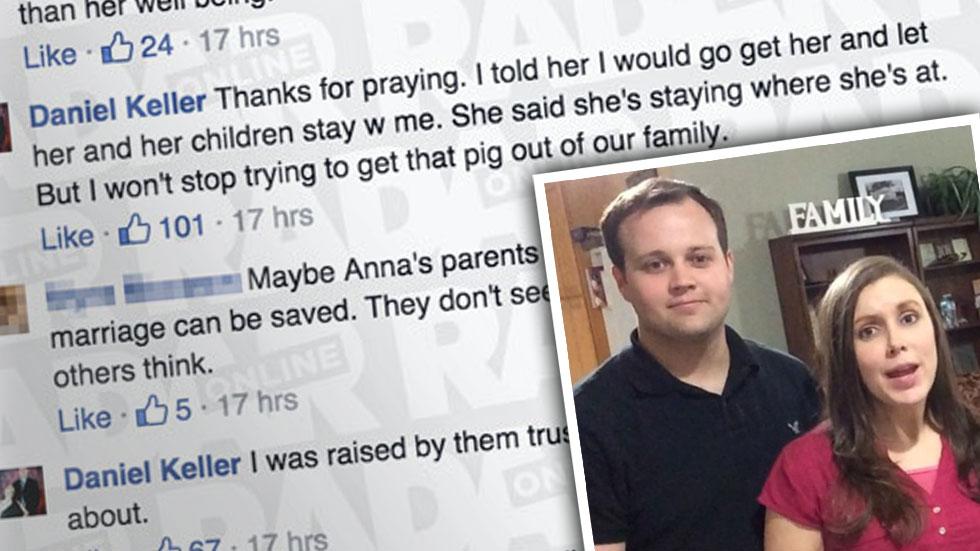 Admitted cheater and porn addict Josh Duggar betrayed his tired wife of seven years, Anna— and her big brother is furious!
The 27-year-old mother of four's older sibling Daniel Keller, 30, spoke out on Sunday about Josh's shocking behavior, RadarOnline.com can exclusively reveal.
When Josh's supportive sister— and onetime molestation victim— Jessa Seewald, 22, posted a Bible verse about sins and forgiveness on her official Facebook page, Daniel publicly responded with a dig clearly aimed at the disgraced "family rights" activist, 27.
Article continues below advertisement
"You have to confess and forsake your sin to have mercy," he wrote. "Not sin, confess repeat."
When a Duggar fan defended Josh, Daniel became blunt.
"Tell me how you would feel if someone cheated on your sister and brought so much disgrace to you and ur family," he snapped.
In another slam to Josh, he wrote: "Maybe you should go read ur bible instead of beating people over the head with it."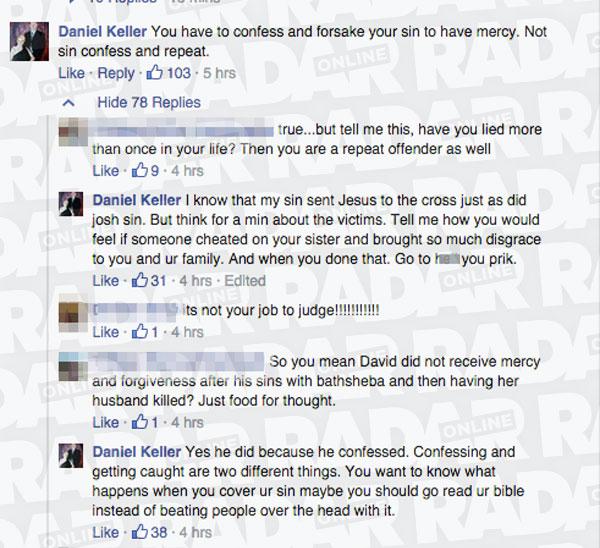 "Daniel Keller, did YOU think about the victims (your sister) before you posted that comment?" another Duggar defender asked.
"Yeah b**** I did," he replied. "I have been thinking of her and sick to my stomach for her for the last few days."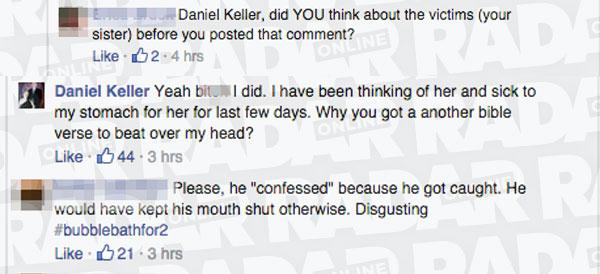 Later, Daniel said he encouraged his sister to leave Josh and move in with his family in South Carolina.
"I have told her I would pay for her to move out here w me and pay for her kids," he revealed. "I don't think Josh will see that this is a big deal and truly be broken until that happens. I beat my life on the fact that Josh has not come to true brokenness yet."
Article continues below advertisement
Also, as RadarOnline.com has exclusively reported, Daniel claimed his fervent Christian parents, Mike and Suzette Keller, have instructed Anna not to divorce her unfaithful husband.
"My parents are peaching stay w him," he said. "They're more interested in how their daughter getting a divorce will look than they are in trying to truly get Josh some help and getting Anna and the kids out of there until he has gotten that help."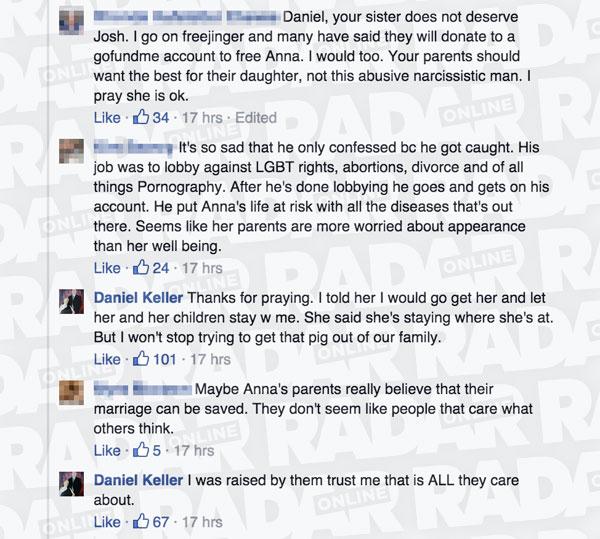 And sadly, he said Anna won't be packing her bags and taking off from her Arkansas home.
"She said she's staying where she's at," he wrote. "But I won't stop trying to get that pig out of her family."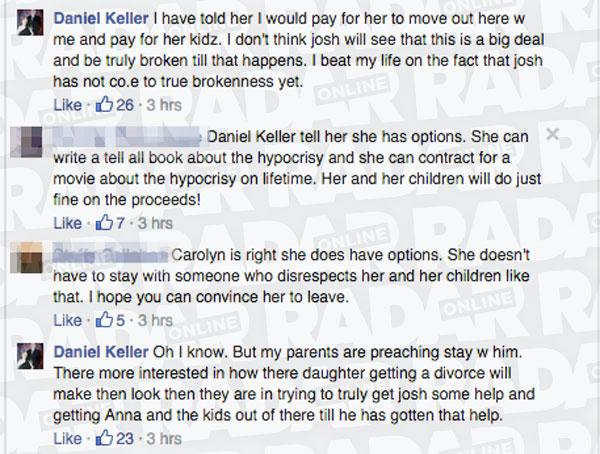 Article continues below advertisement
Just three months after a leaked police report revealed Josh was accused of molesting five minor females, including at least two of his own sisters, news site Gawker reported that Josh was a member of hacked website Ashley Madison, which helps married people find affairs.
In a shocking move, he confessed to his dirty deeds.
"I have been the biggest hypocrite ever," he said in a bombshell statement posted on the Duggar family website. "While espousing faith and family values, I have secretly over the last several years been viewing pornography on the internet and this became a secret addiction and I became unfaithful to my wife."
Should Anna divorce Josh? Sound off in the comments.
Watch: Jim Bob Duggar was 'devastated' by sons Josh's Admission