Jailhouse Gigolo Aaron Hernandez May Have Had 'Sexually Explicit Relationship' With Jury Tipster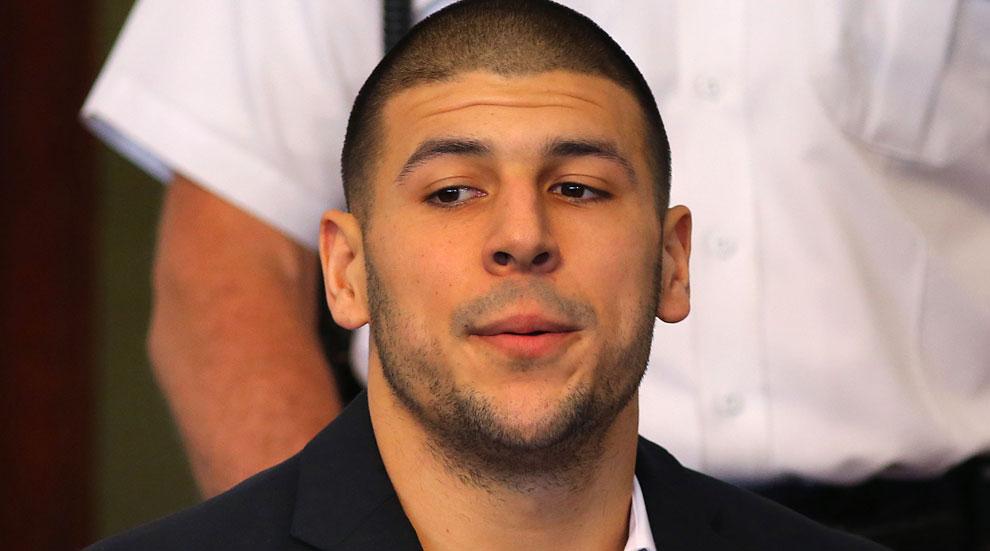 Aaron Hernandez has a tough image as a former NFL player turned convicted murder and possible gang member. But still, the killer Casanova clearly has a way with the ladies, as it has been revealed that he may have had a "sexually explicit relationship" with a jury tipster!
Back in June, Hernandez was convicted of the 2013 killing of Odin Lloyd. Following the decision, Hernandez's lawyer James Sultan filed documents claiming that a tipster had alerted him in April that a member of the jury had been "untruthful" in that they "had been present for a discussion about a Boston double murder case that Hernandez is also charged in," People reports.
Article continues below advertisement
But now, prosecutor William McCauley is alleging that the tipster may have a hidden motive behind her accusations – he claims that she was in a "sexually explicit relationship" with Hernandez!
In a document filed Monday, McCauley claims that the woman who is being called "Katy" had sent sexual letters to Hernandez. He insists that Katy fabricated the story because she believes Hernandez is innocent and wants to be with him when he gets out of prison. While jury tampering would not set Hernandez free, if Katy's allegations were proven true, Hernandez could receive a new trial.
As RadarOnline.com has reported, Hernandez does have a history of exchanging flirty letters with female admirers. Since entering prison, he has taken up a new pen pal that he calls a "very special" lady, telling her that he thinks about her often.
Additionally, Hernandez is engaged to Shayanna Jenkins, the mother of his two-year-old daughter. During his trial, Jenkins, 25, mouthed "love you" to Hernandez as he sat at the defense table. When she was called to testify, she insisted that she could not remember important details of the murder case. "I was drunk that night," she said, defiantly. Jenkins had previously been charged with lying 29 times to a grand jury in relation to Hernandez's case.