Later, Lord! 'Lawyers Working On' Plan To Fire Scott Disick From 'KUWTK' — The Secret Contract Loophole That Did Him In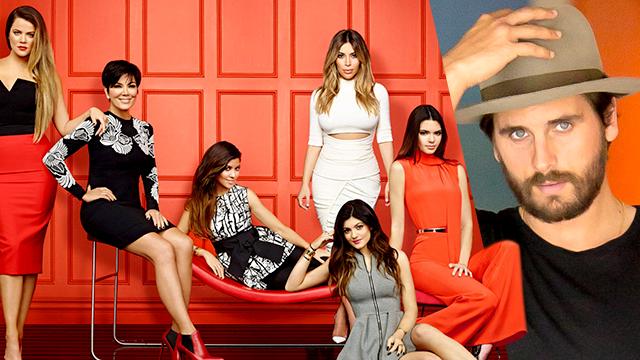 Scott Disick has been a Keeping up with the Kardashians fan fave since it first aired in 2007 and he was simply Kourtney Kardashian's crazy boyfriend. But ten seasons and millions of dollars later, RadarOnline.com has exclusively learned that 32-year-old Disick will likely be fired from the show any day now.
A well-connected network source told Radar, "Scott will not be returning to the show if he is not with Kourtney, because she is the only reason he was even on the show to begin with."
Article continues below advertisement
"The Kardashian women all have contracts with E! that extend three more years, but Scott has a separate deal with the network," the source explained.
"His contract is very lucrative, but it is only season to season, because everyone anticipated that something like this would eventually happen."
Another source close to production told Radar, "There is a gross negligence clause, which Scott is obviously breaking with his insane behavior, so they are going to cut him loose from his contract."
"Kris wants him cut from everything, and he won't be able to use the Kardashians in any way to benefit him," the source continued. "He won't even be able to say I'm Scott Disick of KUWTK for appearances. They probably won't make an announcement because they don't want to give him any more publicity, good or bad. Lawyers are working on it."
Radar was the first to report that Kardashian kicked Disick out of their Calabasas, Calif., home after yet another blowout fight in late June.
Article continues below advertisement
Disick then jetted off to Monaco and was caught being overly affectionate with 25-year-old ex-girlfriend Chloe Bartoli, which resulted in him losing his family and now his career.
Now that Kardashian is going after full custody of the couple's children – Mason, 5, Penelope, 2 and six-month old Reign – her entire family has rallied behind her to let Disick know that he is not welcome anymore. And the network is doing the same, according to the source.
"He will not get his own show on E!, as the family has already made sure that would not be a possibility," the source said.
"Scott knows he is done and the network obviously stands behind Kourtney and her immediate family. It's sad but he is getting what he deserves."
Do you think that Scott Disick and Kourtney Kardashian will get back together? Tell us your thoughts in the comments below.
Watch: Kourtney Kardashian Tells Scott Disick She Needs Space