Exclusive
Back On Track? Scott Disick Stays Sober During Vegas Club Appearance Thanks To Babysitter Kourtney Kardashian But It's 'A Constant Battle'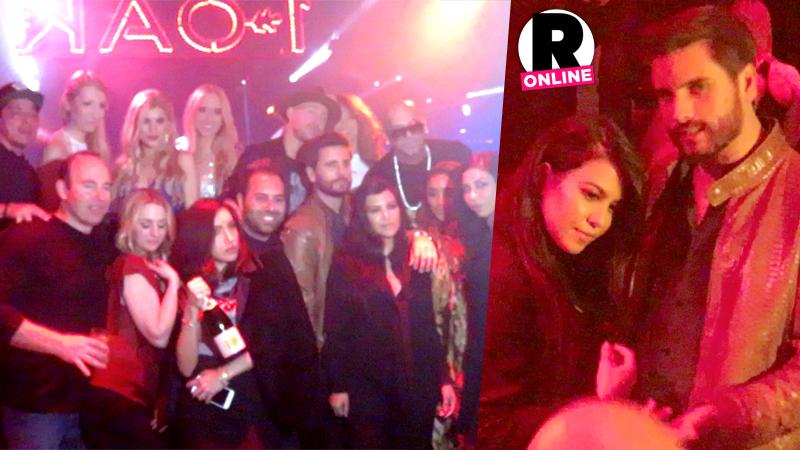 Scott Disick calls himself The Lord, but it's his lady Kourtney Kardashian who really lays down the law in their relationship! Disick hosted yet another booze-filled event at 1Oak in Las Vegas over the weekend, and RadarOnline.com has learned that his three-time baby mama, Kourtney Kardashian, was on hand to make sure that her man stayed in check. Surprisingly, a Kardashian family insider tells RadarOnline.com exclusively, "He actually had a good time without alcohol, for once!"
Article continues below advertisement
"Scott was babysat by Kourtney and her friends," the source says. "He knew that he didn't stand a chance of getting away with anything when she was there."
"This is the first time that they have gone to Vegas together where he did not make an a** out of himself and she was so happy that he did not."
The Kourtney & Khloe Take the Hamptons reality stars, who are parents to Mason, 5, Penelope, 2, and newborn son, Reign, have had a rocky relationship in recent months. But according to the friend, things have started taking a turn for the better following the birth of their newest addition to the clan.
"Scott is actually trying right now and he has made such great progress in the sense that he is able to go even one day without a drink," the insider says.
As RadarOnline.com previously reported, Disick, 31, entered rehab over the summer after he was rushed to the hospital for alcohol poisoning and has had a tough time in his sobriety, falling off the wagon only to get back on again.
"She fears that if she isn't around, he will slip into another relapse and she is right," the source tells RadarOnline.com. "Every time Scott goes away and she is not there, he gets drunk."
"It is a constant battle, but he and Kourtney get along so well when Scott is sober."
Do you think that Scott Disick will ever be able to kick his drinking habit once and for all? Tell us your thoughts in the comments below.