Exclusive
Blame Game: Reese Witherspoon And Sofia Vergara Feuding Over Movie Flop -- Jim Toth In The Middle!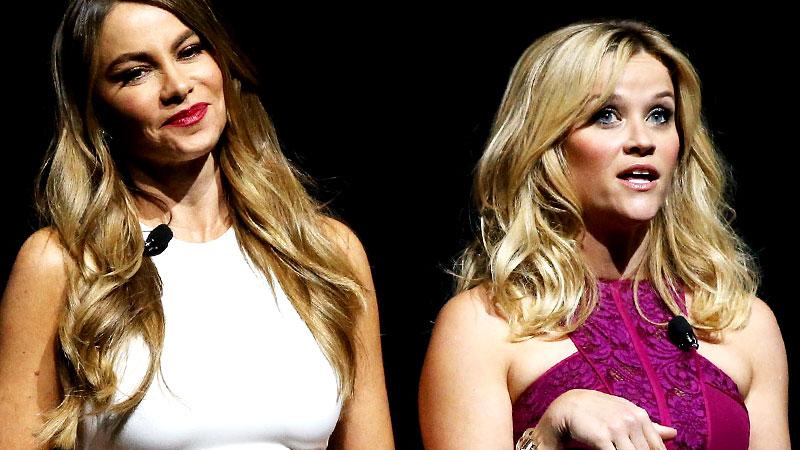 It was supposed to be a buddy comedy, but when Hot Pursuit flopped at the box office, it turned Reese Witherspoon and Sofia Vergara against each other!
Witherspoon and Vergara had reportedly become inseparable friends as they worked together on the film -- but things changed after the movie only barely made back its $35 million production budget.
"Sofia and Reese have turned the movie's failure into a brutal blame game," an insider told RadarOnline.com. "Reese blames Sofia's accent and 'irritating laugh,' while Sofia blames Reese for not being sexy or funny enough."
Article continues below advertisement
As if things weren't awkward enough, both women are represented by Witherspoon's husband, agent Jim Toth! "Jim is desperately trying to broker peace between them, but then they start accusing him of playing favorites! He can't win."
The actresses are reportedly 'devastated' by the monetary and critical failure. "A laugh could die of loneliness in this shrill, slapstick buddy farce," one critic said. "The proven comic gifts of Witherspoon and Vergara have gone MIA."
MORE ON:
Reese Witherspoon
Both women stood to make real career gains if the film had been successful. Witherspoon and Vergara were both producers on the project. Additionally, Vergara was hoping that Hot Pursuit could transform her from a television star to a silver screen starlet.
"Sofia has a love/hate relationship with Modern Family," the source said. "Its shooting schedule is long and difficult, but if she had a real movie career, she could leave... Sofia was hoping to have some kind of leverage for next season's contract negotiations, but because Hot Pursuit was such a turkey, she needs the show more than ever."