Ramona Singer Slams Bethenny Frankel For Not Inviting 'Hot Men' To Her Event On 'RHONY'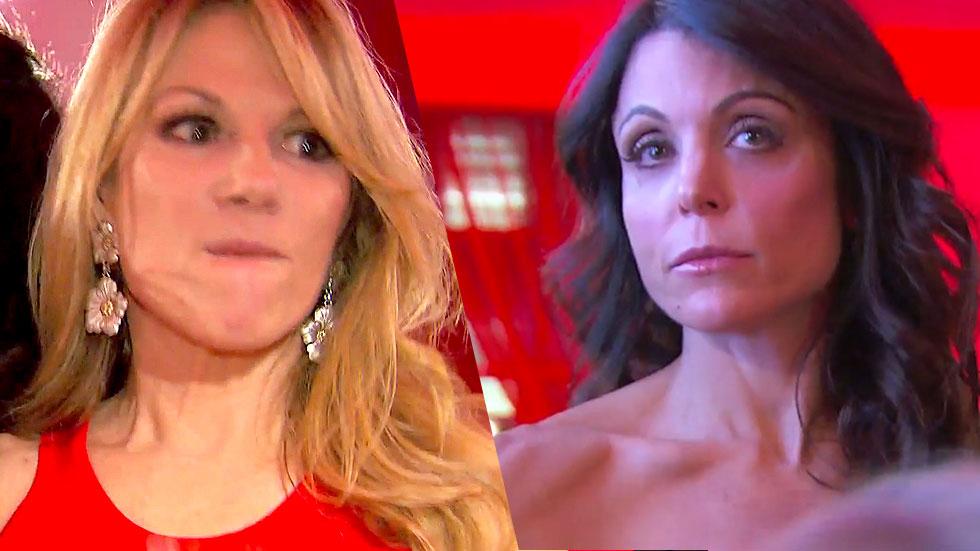 On the Real Housewives of New York Tuesday, Ramona Singer slammed Bethenny Frankel for a party foul, while Dorinda Medley and Carole Radziwill discussed their late husbands.
After Radziwill jetted to London with Medley to retrieve her husband's ashes, she finally held the urn for the first time in 15 years.
Although she became emotional when she told the priest that she wishes for "one more day" with her husband, she couldn't help but be brought to tears once she held the urn again.
Article continues below advertisement
"A lot of things were going through my mind," she said. "Memories of Anthony, our time together. If Anthony was alive, who knows what our lives could've been."
But Radziwill wasn't alone, as Medley consoled her friend by sharing her own struggles with her husband Richard's death.
"I, at the end of it, was so physically and emotionally exhausted and so angry, I was angry at Richard at the end," she explained. "I almost felt like after he died I was happy he died.
"It was like the first night I ever slept was the night he died."
After explaining that loved ones are not allowed to sleep when someone's dying because they could be gone at any moment, she insisted that taking care of her late husband "was never a burden, it was an honor."
Radziwill then opened up about the night her husband passed away.
"We were lying down in the bed together and I was falling asleep as he was, what I thought, falling asleep and it was quite peaceful," she said. "And then the doctor said, 'Mrs. Radziwill, he's gone.'
Article continues below advertisement
"I walked into the apartment and it wasn't until a few days later that I was like, "Oh, he's not coming home."
Watch the video on RadarOnline
But the friends didn't spend the entire episode crying over their loved ones, as they found time to gossip about their co-stars!
After Radziwill fought with LuAnn de Lesseps for allowing a strange man to sleep naked in their Turks and Caicos home overnight, she explained why the Countess continued the fight even after they made up.
"This is where she gets the Countess side," Radziwill explained. "The Countess, as compared to LuAnn, who I like, is a hypocrite. She passes judgment on the very things that she does and she looks down her nose at people.
"The Countess has kidnapped LuAnn and no one is happy about it."
But Medley didn't agree, as she explained how de Lesseps got "caught in the crossfire of Ramona's bad decision" because Singer was the one who let the man stay the night.
Article continues below advertisement
Meanwhile in New York, Sonja Morgan attempted to school Singer on "the dating game" to avoid another Turks and Caicos catastrophe.
"When you bring a guy home, at the beach, he stays on the beach," Morgan explained. "That's why it's called sex on the beach!"
Unfortunately for Singer, she wasn't able to try out Morgan's advice, as she found no one worthy of her time at Frankel's Boy Meets Skinnygirl party.
Frankel said of the theme of the event, which was to introduce two new cocktail flavors, "I want to have good looking guys in the room because LuAnn, Ramona and Sonja are going to be there.
"They have expectations, and I want to make sure they have someone to look at, someone to talk to."
Despite Frankel proclaiming that there are "more men than booze -- and there's a lot of booze!" -- Singer wasn't impressed!
Article continues below advertisement
"Not to be, like, negative, but I don't really see that many men here," Singer told Frankel. "Where are these hot men I'm supposed to meet?"
Frankel quipped in her confessional: "Ramona has a bounty on her vagina. She's in the phase where she doesn't want to go somewhere unless the possibility of getting laid exists."
In an effort to satisfy her guest, Frankel made an effort to find her a man at the party.
"My main real job here tonight is not to do press and create awareness for the Spicy Lime Margarita, Pinot Nior, no, I'm here to be a madam to get Ramona laid with the right caliber of man," Frankel joked. "That's my real job."
She then brought a man over, who Singer turned down -- because he's a bartender!
"Bethenny told me there would be a lot of men here, but you know what, she didn't follow through," Singer said, as she explained that her dream man is someone in his 50s who has been married, has children and is well off financially.
Article continues below advertisement
Despite her friend's help, Singer left the event early because "there's really nothing going on here."
Watch the video on RadarOnline
But Frankel's matchmaker evening wasn't a total fail, as Morgan took advantage of the men!
"We're single, we're gonna mingle," she screamed before breaking her tooth from ripping a man's shirt off!
"All I know is these guys were looking at me," Morgan explained. "One in particular showed me his cuff, pointed to his button, and all I could think was rip that thing off. Next thing I know, tooth was flying out of my face."
The Real Housewives of New York airs Tuesdays at 9/8c on Bravo.