Exclusive
'He's In A Dark Place Now' — Ben Affleck's Best Friends Struggling To 'Protect' Him Post-Split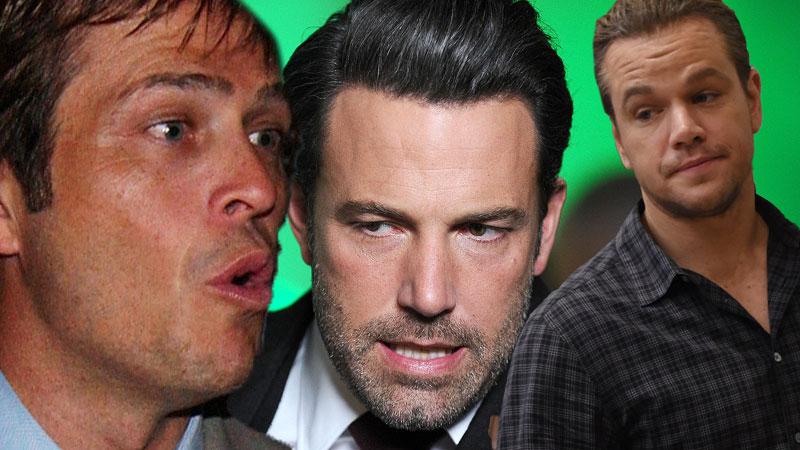 Publicly, Ben Affleck is relying on his acting skills to appear he's weathering his split from Jennifer Garner just fine — but behind the scenes he's a total mess.
Now RadarOnline.com has learned that Affleck is leaning on his buddies, actor Matt Damon and agent Patrick Whitesell, to get him through these tough times.
"They have formed a tight circle of protection around Ben and are determined to keep him from a full-on breakdown," an insider tells Radar.
Article continues below advertisement
The reason? "Ben's taking all the blame for the end of his marriage," reveals the insider. "He didn't want her to leave, but he gave her no choice. He's really in bad shape and Matt and Pat are urging him to get past this as quickly as possible and stay focused on the work ahead of him."
The insider notes that Affleck has been working on his passion project Live By Night for three years now, and without the distractions of a crumbling marriage, there's a big push for him to throw himself into work rather than give in to his depression.
"He's naturally a workaholic anyway, but he's in a dark place now and only time and his friends can help pull him through," says the insider.
As Radar reported, the three men first bonded when the actors scored their hit movie Good Will Hunting thanks, in part, to Whitesell.
However, Garner, 43, despised the boys-only sessions they often had. "She felt left out and alone, so she started to control things," a source claimed. "It got nasty. She started making thinly veiled threats" to make Affleck, 42, "look bad."
"She knew he was talking to his agent and Matt about their marriage, and she started to feel like she was being ganged up on by the boys."