Exclusive
The Ultimate Betrayal! Kourtney Kardashian 'Blows Up' At Kris Jenner Over Momager's Secret Calls To Scott Disick – 'She Crossed The Line'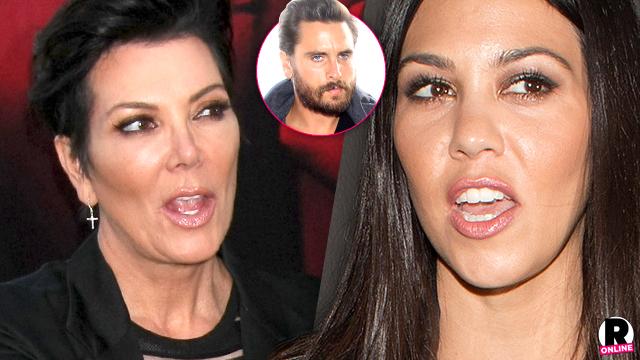 The Kardashian clan has cut off Scott Disick following his split from Kourtney Kardashian, standing solidly by the eldest sister's side. But RadarOnline.com has learned one of the Keeping Up with the Kardashians star's closest confidants secretly betrayed her by making calls to Disick behind her back: her mom, Kris Jenner!
According to a well-connected Kardashian insider, "Kris crossed the line by calling Scott to mend fences after she was specifically told by Kourtney that no one in the family should have any contact with him at all."
Article continues below advertisement
When Kardashian found this out through one of her sisters, "she blew up on Kris," says the source.
"Kris overstepped her boundaries because she felt like she could save the situation at first, but she now realizes that it is past that point."
As Radar was the first to report, the oldest Kardashian sister and mother to Mason, 5, Penelope, 2 and six-month old Reign, kicked Disick, 32, out of her home over his refusal to get clean and sober. However, the end of the couple and the final straw came several days later when Disick was caught on camera being very cozy with his ex-girlfriend, Chloe Bartoli, in Monaco.
Over the past several seasons of KUTWK, Disick's hard-partying lifestyle became a prominent topic on the show. It reached a high-point when he was rushed to a hospital in Southampton, NY, last summer for alcohol poisoning – all of which played out on the hit TV show. And the ratings he brought in provided a motive for Jenner's call, said the source.
"Kris's intentions with contacting Scott were clear," the source tells Radar.
"She knows that Scott and Kourtney's storyline of constantly fighting for him to get help with his addiction gave the show ratings and that, without him, no one really would care about what Kourtney and the kids were up to."
"Scott is a dramatic relief on the show and Kris has no backup plan on what to do if he is no longer on it."
Do you think that Keeping up with the Kardashians will still be interesting without Scott Disick? Tell us your thoughts in the comments below.