West Gone Wild! Kanye Throws 'Huge Hissy Fit' Onstage At Concert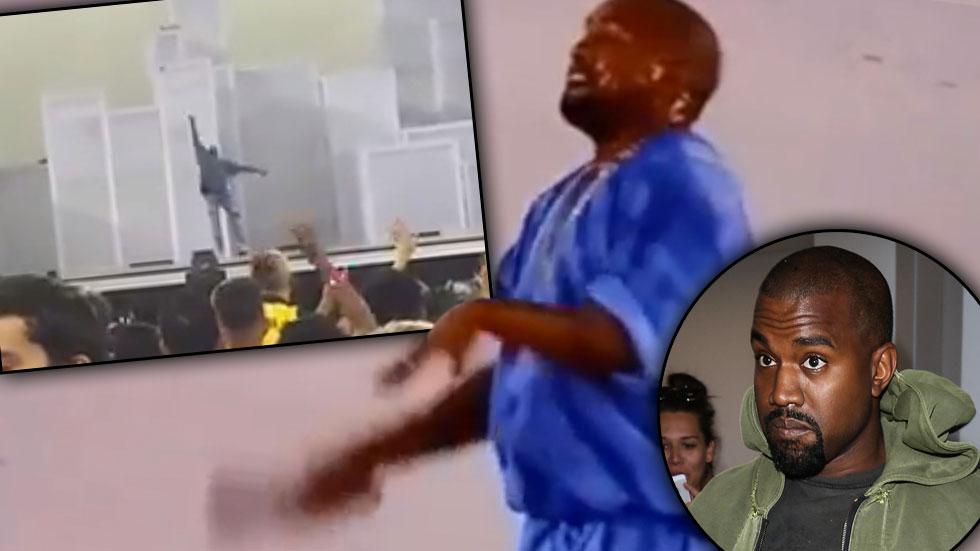 Kanye West is known for his onstage tantrums, but he truly outdid himself at a recent event when he tossed the mic 60 feet in the air and stormed off stage! RadarOnline.com has all the details of his latest meltdown.
On Sunday at the Pan Am Games Closing Ceremony in Toronto, Canada, West stunned onlookers by throwing a mic into the air.
"You cannot see this on the video, but when Kanye threw the mic into the crowd it was not part of his routine," a production insider says.
Article continues below advertisement
"During his set, the audio went out, which is actually not that uncommon for a production such as this," says the source.
"But instead of acting like a professional, he threw the mic and walked off stage. When he got backstage he threw a huge hissy fit tantrum and was cursing up a storm. It was ridiculous," the source tells Radar.
According to the eyewitness, "Kanye kept screaming that his time was valuable and this kind of sh*t was totally unacceptable to him."
"He actually said that 'they were lucky to have him there," the source says.
Watch the video of West's meltdown.
Do you think that they were lucky to have Kanye West there? Tell us your thoughts in the comments below.