Yeezus! Kanye West Stops Florida Concert: Demands Lights Be Turned Off, Storms Off Stage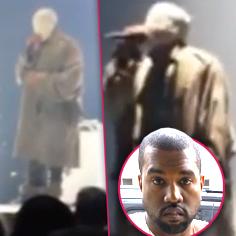 Kanye West threw a tantrum during his Tampa, Fla. concert on Saturday night stopping the show after only three songs, demanding the lights be turned off, spewing an expletive rant at his tech crew and storming off stage.
According to The Tampa Tribune, West was displeased with the lighting scheme and said the lasers shooting out of the mountain "suck" -- and he also barated a tech named "Laura" who forgot to give him a "deep voice" on his mic.
Article continues below advertisement
"How many people you know that you talk to on a day-to-day basis that made a ... mountain open up in Tampa tonight," Kanye asked the crowd of 7,000.
"So all the other things I'm talking about, is it crazy or is it possible?"
Video footage of the crowd booing at a masked West as he storms the stage, ranting and cursing, can be seen below: