Exclusive
Humiliated Kim Kardashian's Secret Apology To 'Vogue' Revealed — Over Kanye West's Antics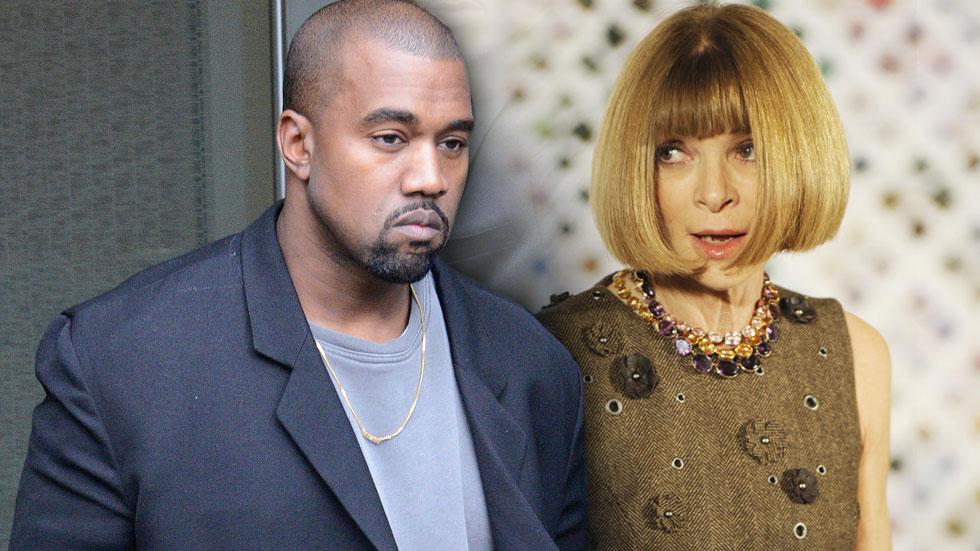 Why is Anna Wintour constantly criticizing Kimye? RadarOnline.com has learned that their recent feud goes back to the couple's Vogue cover shoot, when Kanye West's diva behavior earned him the ire of the staff. And despite Kim Kardashian's secret apology, tensions with the magazine linger.
"Anna had thought they would be over the moon to be offered the opportunity to be on the cover of Vogue, and therefore wouldn't be difficult to shoot," an insider told Radar. "However, that quickly became apparent that it wouldn't be."
Article continues below advertisement
"Kanye demanded final approval of the proposed photographers," the source revealed. "Among the choices were his good friend, Mario Testino, and famed photographer Annie Leibovitz. It was quickly decided that Annie would do the shoot, and Kanye immediately began to bombard her with phone calls and emails to discuss his vision."
"Anyone that has worked with Annie knows there is no one better, period," the source continued. "Annie chooses the vision, and sets the tone with the assigned editor whenever working for Vogue."
"The shoot took place in multiple locations, including Paris, and it was Kanye that made everything take ten times longer because he wanted to see every single picture Annie took. The entire piece ran way over budget. Kanye was impossible to please, and Kim would often apologize for his antics."
But the drama didn't end there.
"After the shoot, Kanye also began constant phone calls to Grace Coddington, Creative Director for Vogue, as well as Anna. Grace is extremely professional, and very hard to rattle. But if Grace never heard Kanye's name again, it would be fine with her," the source said.
Article continues below advertisement
Even though West was a nightmare to work with, he assumed Leibovitz was going to shoot his wedding to Kardashian last year, and admitted he was baffled after it didn't happen.
"Let me tell you something about that kiss photo that my girl put up … this was pissing my girl off during the honeymoon, she was exhausted because we worked on the photo so much because Annie Leibovitz pulled out right before the wedding. I think that she was, like, scared of the idea of celebrity," Kanye said at the Cannes Lions Creativity Conference soon after the nuptials. "Because Annie pulled out, I was like, 'Okay, I still want my wedding photos to look like Annie Leibovitz,' and we sat there and worked on that photo for, like, four days because the flowers were off-color."
Leibovitz released a statement stating she was never confirmed to shoot the wedding, and was "," even though she isn't known to shoot weddings.
If Wintour ever did decide to feature Kimye in the fashion glossy in the future, "There would be a staff mutiny!" said the source. "No one ever wants to work with either of them, especially Kanye, ever again."