DNA Tests Reveal 'Dirty Truth' That Bill Clinton May Not Be Chelsea's Real Dad — Find Out Who Ex-President Suspects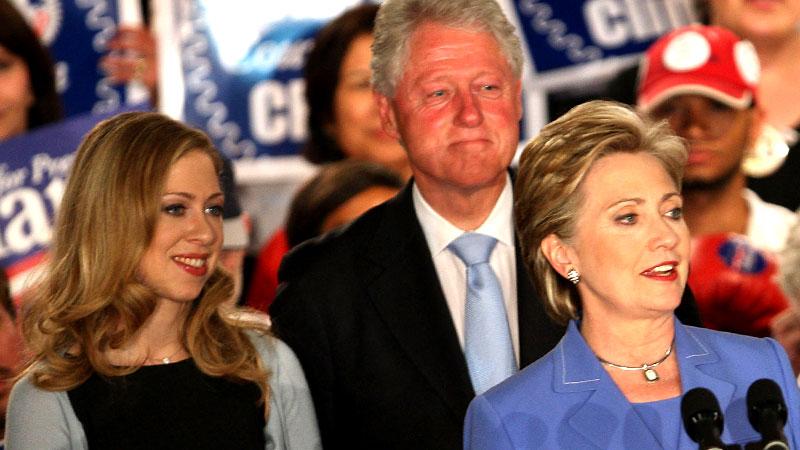 Chelsea Clinton has secretly undergone a DNA test, and it proves she could be the daughter of Hillary's former law partner and not former President Bill Clinton!
An exhaustive investigation by The National ENQUIRER obtained "touch DNA" samples from both Chelsea and Webb Hubbell, samples that were turned over to a nationally recognized laboratory that specializes in paternity testing.
In a bombshell revelation that threatens to turn Hillary's 2016 presidential campaign into absolute chaos, The ENQUIRER has learned the lab result has been sensationally declared "inconclusive."
Article continues below advertisement
A lab official confirmed that finding "does not discount the possibility" that Webb could be Chelsea's biological dad!
The issue of 35-year-old Chelsea's paternity has been widely debated, and The ENQUIRER set out to acquire DNA samples from Chelsea, who recently became a mother, and Webb. Each autographed books, which were quickly and carefully sealed, along with the pens, for lab testing.
The ENQUIRER approached Webb, 67, at a book signing in Durham, N.C., on July 18, 2014. He was promoting his political thriller ironically titled, When Men Betray.
A reporter presented a brand new Sharpie pen and a pristine copy of the book. Webb signed his name in the book — and even agreed to place both the book and the Sharpie pen in a protective bag. The reporter also retrieved a large Starbucks drink that Webb had been drinking from, which was later tested for additional saliva and DNA.
Article continues below advertisement
Chelsea's DNA was acquired on April 9, when she spoke about public health initiatives at Harvard University's T.H. Chan School of Public Health in Boston.
As Chelsea exited the auditorium, she used a new Sharpie to sign a clean copy of her mom Hillary's authorized biography, Living History.
A reporter placed the Sharpie and book pen into a sterile bag. The samples were then taken to a genetics lab in the Southeastern United States.
The forensic examination of the samples could not disprove that Webb was Chelsea's father — with the official result being "inconclusive."
"It's time for Hillary and Bill to reveal the dirty truth once and for all," Bill's former aide, Larry Nichols, told The ENQUIRER. "They can't question DNA!"
In an interview with The ENQUIRER almost a year ago, Larry claimed that Bill once admitted he wasn't the biological dad of the couple's only child.
Article continues below advertisement
The 64-year-old ex-Clinton confidante said Bill made the shocking admission during a 1984 conversation at the Arkansas Governor's Mansion.
At the time, there were rumors that hound-dog Bill had impregnated a local woman.
Larry told The ENQUIRER Bill "denied that he could have gotten the local woman pregnant.
"His exact words were: 'I shoot blanks.' I asked him, 'Then what about Chelsea?' And Bill said, 'Oh, Webb sired her'" — referring to Hillary's colleague at the Rose Law Firm.
Do you think Chelsea might not be Bill's biological daughter? Weigh in below with your thoughts on the paternity scandal.