'Don't Be All Uncool!' LuAnn de Lesseps Slams Heather Thomson Over Strange Man Spending The Night On 'RHONY'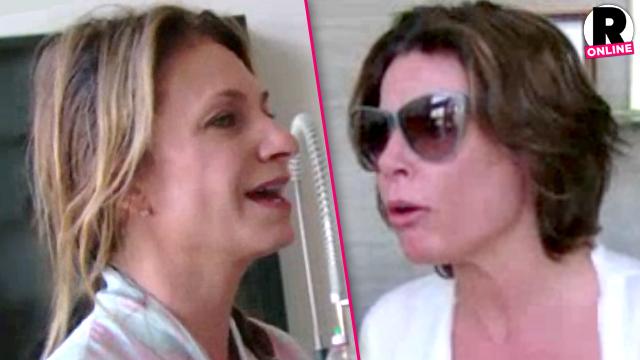 On this week's Real Housewives of New York, Heather Thomson confronted LuAnn de Lesseps for allowing a strange man to sleep naked in their Turks and Caicos vacation home.
But the Countess refused to gravel for Thomson's forgiveness, as she slammed her right back for being "uncool!"
The biggest blowout of the season kicked off when Thomson and Carole Radziwill skipped out on a night of partying with their co-stars. When Thomson woke up the next morning, she found a strange man sleeping naked in the room next door.
Article continues below advertisement
She said to Radziwill of the frightening ordeal, "He could've been looking at us while we were sleeping. I don't even know who these people are and they let them sleep across the hallway from us?"
Worried that their jewelry could have been stolen, the women were determined to find out who allowed the man to stay the night.
When Ramona Singer said that the mystery man was "some guy that LuAnn's friend brought home," the Yummie Tummie founder went after the Countess.
"I come here to have a nice time with my friends on a trip and you bring a stranger you don't even know?" Thomson asked. "You've been drinking and your judgment's impaired and you let them sleep right across from me and Carole?"
The "Girl Code" singer explained, "We brought guys back here, we had a good time. What's the big deal? You're upset? You're crying because the guy slept upstairs?"
Thomson yelled back, "They stayed! It scared me LuAnn! There is a stranger naked in a bed."
Article continues below advertisement
"The guy probably drank too much and he fell asleep upstairs," de Lesseps replied. "It's not a big deal. Be cool, don't be all uncool."
After de Lesseps confronted Singer for throwing her under the bus, viewers discovered that de Lesseps' man, who was married, left, while Singer's guy was the one who stayed the night.
Sonja Morgan set the record straight to her co-stars, "Ramona went upstairs with the guy because I was in bed and she left the guy there -- mystery solved!"
Watch the video on RadarOnline.com
Soon after the women landed back in New York City, they gathered for Kristen Taekman's Diamond and Denim Decorating Party for charity.
Although Thomson seemed over the Turks and Caicos chaos, de Lesseps explained that she's "livid."
She said, "Why would you burst into my room? You basically bust down my door."
Thomson fired back, "You feel violated LuAnn? Because we stormed in your room at 9:30 in the morning to question the fact that we had a naked man sleeping 20 yards from us?
Article continues below advertisement
"Who should be violated here, Countess? Get your sh*t together!"
After Singer apologized to Thomson for allowing the man to sleep in their bed, de Lesseps also made up with the fashion designer.
But the feud was far from over, as de Lesseps said in her confessional, "I feel like they crossed the line -- they broke the girl code and it is going to be really hard to get my trust back."
The Countess even wrote a song inspired by the ordeal: "Girl Code: (Don't Be So Uncool)."
Also on the episode, Taekman came under fire by Bethenny Frankel for talking about her to the media.
"She said don't judge a book by its cover, meaning I seem tough," the Skinnygirl mogul explained to Radizwill and Dorinda Medley over lunch. "That she wanted to get to know me and the cover was right."
Frankel later confronted Taekman about the statements during the charity event.
"I don't need you talking about me, especially if you want to be my friend," Frankel said, as the model shot back, "Who said I wanted to be your friend at this point?"
Taekman then explained that Frankel got the meaning of the quote wrong.
"I was trying to say there is a lot of crap out there about you," she said. "You seem like a great person. You can't judge a book by its cover. "
When Taekman vowed to no longer talk about her to the press, Frankel agreed that the women can "totally move on from it."
The Real Housewives of New York airs Tuesdays at 9/8c on Bravo.