How Will Bobbi Kristina Brown's Fortune Inherited From Whitney Houston Be Divided? Find Out All The Details Here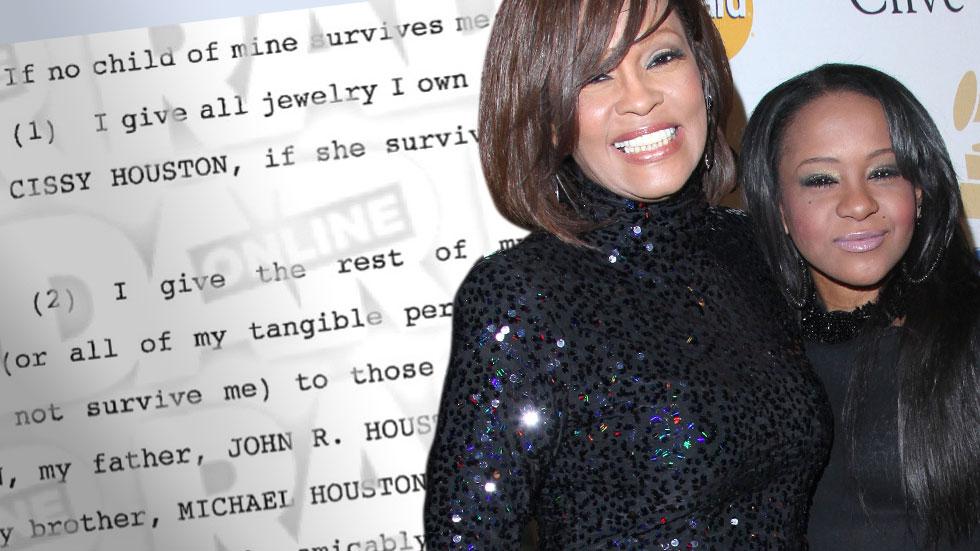 Bobbi Kristina Brown's fortune will be cut up between her grandmother Cissy, and other relatives, in the wake of her tragic death at 22 Sunday, RadarOnline.com reports.
As Radar previously reported, the details come from the will left by Bobbi Kristina's late mother Whitney Houston, who included classified directions in the 22-year-old document as to how she wanted her estimated $20 million in wealth distributed if her daughter died before she did.
Article continues below advertisement
The will, which was drawn up in February of 1993 -- 10 years before the death of her father John, and 13 years before her divorce from Bobby Brown -- left a series of specific instructions as to how the fortune would be doled out. (The death and divorce terminate any agreements made forth in the document.)
Read Whitney Houston's Will HERE
She said in the document: "If no child of mine survives me: I give all jewelry own at my death to my mother, Emily Cissy Houston, if she survives me; and I give the rest of my tangible personal property to those of my mother, Emily Cissy Houston, my father, John R. Houston, my husband, Robert Brown, my brother Michael Houston, and my brother Gary Houston, as survive me to be amicably divided among them as they might agree, in shares as nearly equal as possible."
The initial executor of the estate was Cissy Houston, with Whitney's sister-in-law Pat Houston becoming a co-executor following the "Run To You" singer's 2012 passing. The estate's value was continually growing with Houston's royalties from her music and likeness.
The financial document also set forth timetables that were not reached, with Bobbi Kristina dying at such a young age: She took 10 percent of the estate's value last year after turning 21, and would have received about 17 percent when she turned 25, and 100 percent of the remaining balance when she turned 30.
Article continues below advertisement
Also noteworthy is that Cissy and Pat had tried to change the terms of the distribution based on Bobbi Kristina's controversial relationship with Nick Gordon. They said that if she was given the huge sums of cash, Bobbi Kristina would be a "highly visible target for those who would exert undue influence over her inheritance and/or seek to benefit from her resources and celebrity."
The arrangement remained unchanged after the parties settled things out of court.