Sonja Morgan & LuAnn De Lesseps Slam Bethenny Frankel: 'She's Not A Moral Compass!' – Watch The Video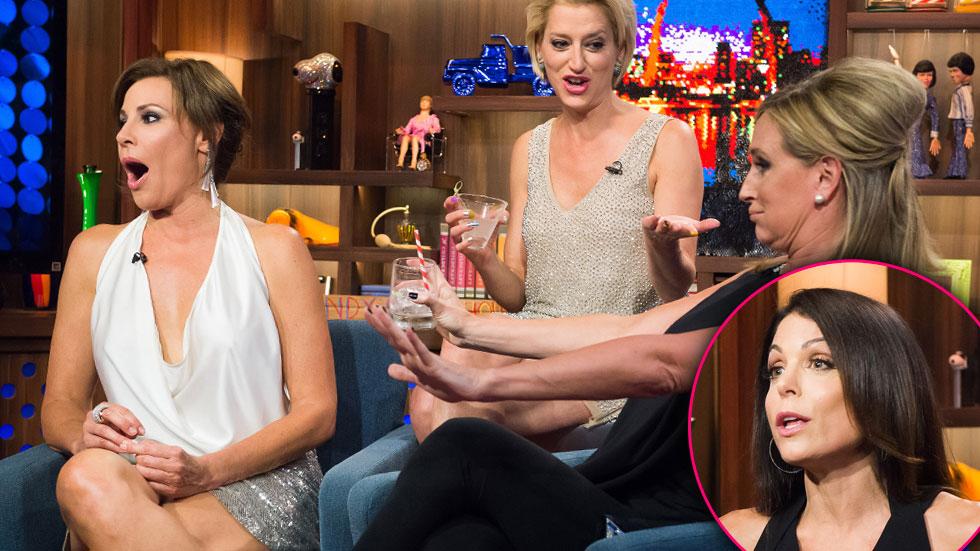 After the latest episode of Real Housewives of New York aired last night, Sonja Morgan, Luann de Lesseps and Dorinda Medley stopped by the clubhouse to chat with Andy Cohen on Watch What Happens Live.
The reality stars revealed all; dishing on costars, discussing relationship statuses, and ending the night with a debut of de Lesseps' latest song.
Of course, the ladies couldn't resist talking about pot-stirring cast member Bethenny Frankel. When a caller asked why Frankel comes across as the moral compass of the show, the reality stars didn't hold back.
Article continues below advertisement
"She's not my moral compass!" de Lesseps scoffed.
"We're a little bit more cautious about what we say," Medley chimed in. "whereas Bethenny's much more unfiltered and will go right for it."
"She would never describe herself as a moral compass," Morgan, who Frankel recently called "stupid," said.
With one last jab, de Lesseps added: "If Bethenny is our moral compass, we're all in big trouble!"
Watch the Video on RadarOnline:
As far as Morgan's love life goes, it seems she's having plenty of fun and keeping it casual.
The housewife dished on her enchanting evening hanging out with Adrienne Maloof's ex-husband Dr. Paul Nassif.
Watch the Video on RadarOnline:
In a last big reveal, de Lesseps debuted her latest single "Girl Code," performing live with her daughter – straight from the clubhouse!
Check out her new song:
The Real Housewives of New York airs Tuesdays at 9/8c on Bravo.