Exclusive
See You In Court! Tori Spelling & Dean McDermott Subpoenaed Over Forgery Claims In $60M Lawsuit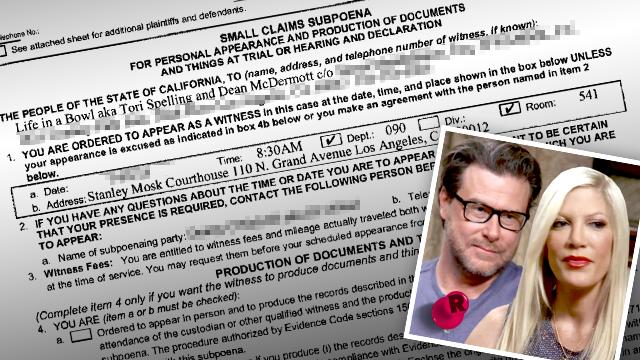 Reality star Tori Spelling has been accused of faking scenes for her reality show, but now RadarOnline.com has learned that claims someone faked her signature could land her in court! The reality star and her husband, Dean McDermott, have been subpoenaed in a new legal malpractice lawsuit brought by their former business associates.
Spelling, 42, and McDermott, 48, have been ordered appear in court in L.A. on July 9, according to a small claims subpoena filed on June 4 and obtained by RadarOnline.com.
Article continues below advertisement
As RadarOnline.com reported, producers Denny JR O'Neil and Charles Malcom previously sued Spelling and McDermott's production company, Life In A Bowl, over claims that they stole an idea for a wedding show. The parties reached an agreement through mediation in 2013, but not long after, O'Neil and Malcolm began questioning their own legal counsel claiming the process had been rife with "illegalities and fraud," and that they believed the signature on the settlement was not Spelling's.
They also claimed they had been forced to sign the settlement "under duress," and that the final figure of $100,000 was half of what they were originally promised. In short, they allege their attorneys did not properly do their jobs.
Subsequently, the producers sued their attorneys, Justin Daily and Reed Aljian, for "failing to raise concerns over the validity of the signature of Tori Spelling," among other issues, according to the malpractice lawsuit filed in L.A. last December.
"The signature has been analyzed by an expert and deemed to be a forgery," the claim insisted.
Indeed, last year, a handwriting expert told RadarOnline.com that it was his professional opinion that the signature was not Spelling's.
Now, O'Neil and Malcolm are subpoenaing Spelling, McDermott, and attorneys Daily and Aljian, among others, to get to the bottom of who really signed the settlement.
Story developing.