It's War Already! Tamra Barney Slams Frenemy Vicki Gunvalson For Lying: 'Let The Housewife Games Begin'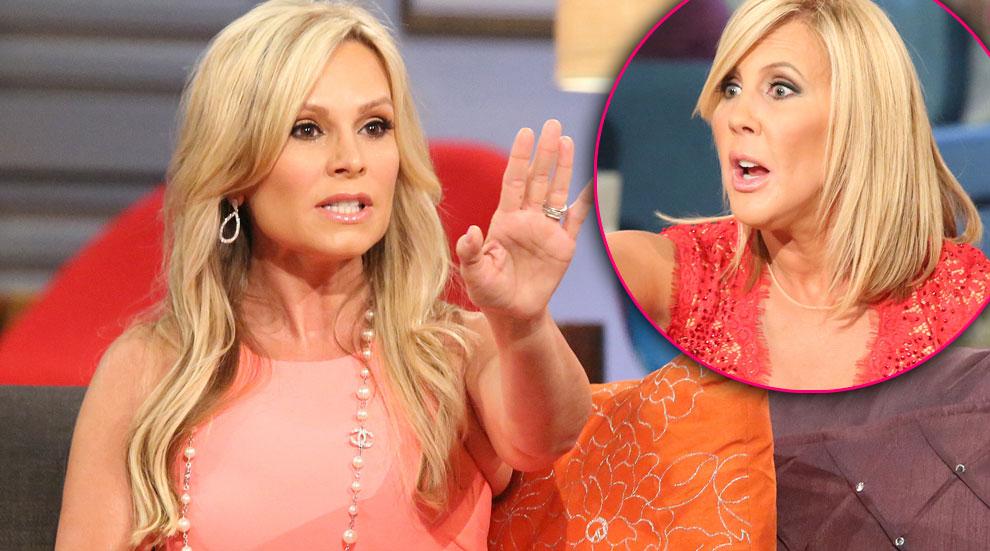 One episode in and the catfights are already brewing!
After the season premiere of Real Housewives of Orange County aired on Monday, the cougars of California are ready to weigh in on all the drama – starting with Tamra Judge!
In a new Bravo blog, the reality star – and new grandmother – admits that while she's trying to step back from all the gossip, she has a few choice words for costar Vicki Gunvalson's behavior.
Article continues below advertisement
During the episode, Gunvalson announced that her boyfriend Brooks had been diagnosed with stage-three lymphoma, and claimed that Judge had failed to respond when she called her for support.
"I was a little surprised to hear Vicki say that she called me to tell me that Brooks had cancer and that I never reached out to her after that call," Judge wrote in her blog post. "SAY WHAT? That is 100% incorrect!!!"
"If I am not mistaken, Vicki said that she had not talked to me and didn't care to reach out to me because she couldn't trust me," she continued. "So why would she call me to tell me that Brooks has cancer?"
Watch The Video On RadarOnline.com
Later, she added: "I found out that Brooks had cancer when it was announced online. I texted Vicki at that point (we were not speaking) and told her I was sorry to hear about Brooks' cancer and asked her if he had started treatment. Vicki NEVER called me and I never called her! I am not sure what she was trying to do, maybe make it look like I am not a good friend and she was?"
To finish off, Judge seemed to declare war with Gunvalson, stating: "Let the housewife games begin."
Do you think Tamra is lying about contacting Vicki? Did Vicki lie? Let us know in the comments below!